Disclaimer: Nansen has produced the following report as part of its existing contract for services provided to Avalanche (the "Customer") at the time of publication. While Avalanche has the right to review and provide feedback to Nansen, Nansen maintains full editorial control over the publication of this report. All views expressed are the independent opinions of Nansen's research analyst(s) who are the author(s) named in this report. This report is intended for informational purposes only and does not serve as investment, financial, professional, or other advice. For more information, please refer to the disclaimer at the end of this report, as well as our Terms of Service.
Overview
Avalanche network is a smart contract platform designed with a focus on scalability. To execute this vision, Avalanche  provides a multichain framework consisting of subnets that scale the network with the most notable being the primary network which comprises P, X, and C chains. The popular C-chain on Avalanche Primary Network is EVM-compatible. Within Avalanche's P-Chain, application-specific blockchains can be spun up in the form of Subnets. Subnet, which stands for subnetwork, represents a set of validators who achieve consensus on the state of the network. A Subnet can be thought of as the bottom layer of the stack and many blockchains can compose on top of a single Subnet.
Similar to Avalanche's Subnets, the concept of application-specific blockchains was adopted by many other chains to support the massive growth of its dApps, such as Polkadot's Parachains and Cosmos' Zones. Generally, all of these application-specific blockchains provide builders with the ability to customize multiple layers of their stack, such as their security model, execution logic, fee regime, and consensus mechanism. However, Avalanche's Subnet architecture offers faster finality, as well as support for any custom Virtual Machine, number of Subnets created, and validator count. This gives a wide range of personalizations to builders for their Subnet.
In this quarterly report, we will look into the performance of the Avalanche network, particularly its C-chain, in Q3 2022 and lay out the key developments implemented by Avalanche and its ecosystem. After the extreme market events in Q2 2022, the general crypto market hasn't shown much improvement in Q3 2022. Despite that, Ava Labs, along with the projects and protocols in the Avalanche ecosystem continued to build its long-term vision through network upgrades, new features, and releases.
Check out Nansen's previous reports on Avalanche and other chains here.
Key Developments
New Feature Updates and Avalanche Hacks
Avalanche Explorer added new features: Ava Labs announced on Jul 22, 2022, that new features were released for its Avalanche Explorer, including New Home Page and Navigation, New Subnet Stats, Validator Information, as well as Smart Contract Verification and Publishing.
Core released Ethereum wallet support and additional features: the new release included compatibility with all EVM-compatible chains, support for customized Subnets, and 2-clicks switching between Avalanche, Bitcoin, and Ethereum.
Avalanche Hacks Summer 2022 kicked off on Aug 22, 2022, where the global community of Avalanche builders came together to solve challenges in GameFi and DeFi. The winners shared a prize pool of $50k when the event concluded on Sep 18, 2022.
AvalancheGo Upgrade: Banff
On Sep 29, 2022, Avalanche announced the newest upgrade to AvalancheGo, called Banff. This upgrade allowed Subnet creators to activate Proof of Stake and have validators validate the transactions simply by staking its token on Avalanche's P-Chain.
Subnets that choose to enable these new features must undergo a one-time transformation into a new type of Subnet called an Elastic Subnet. The upgrade went live on Fuji testnet on Oct 3, 2022, with Mainnet release set to be announced at a later date.
Upon activating the Elastic Validation, Subnet creators relinquish their control keys and permanently lock the Subnet from future modification, consequently increasing the decentralization of their Subnet by allowing validators to join elastic subnets in a permissionless manner.
Boba Launched Avalanche L2 Scaling Solution
Boba, an L2 scaling solution, recently expanded support to Avalanche. It uses optimistic rollups to unlock greater throughput, lower fees, and scaling, as well as having Hybrid Compute capabilities allowing smart contracts to call Web2 APIs.
Being Avalanche's first L2, Boba gave Avalanche developers another powerful option in their scaling toolkit, which would be available for dApps built on C-Chain.
Ecosystem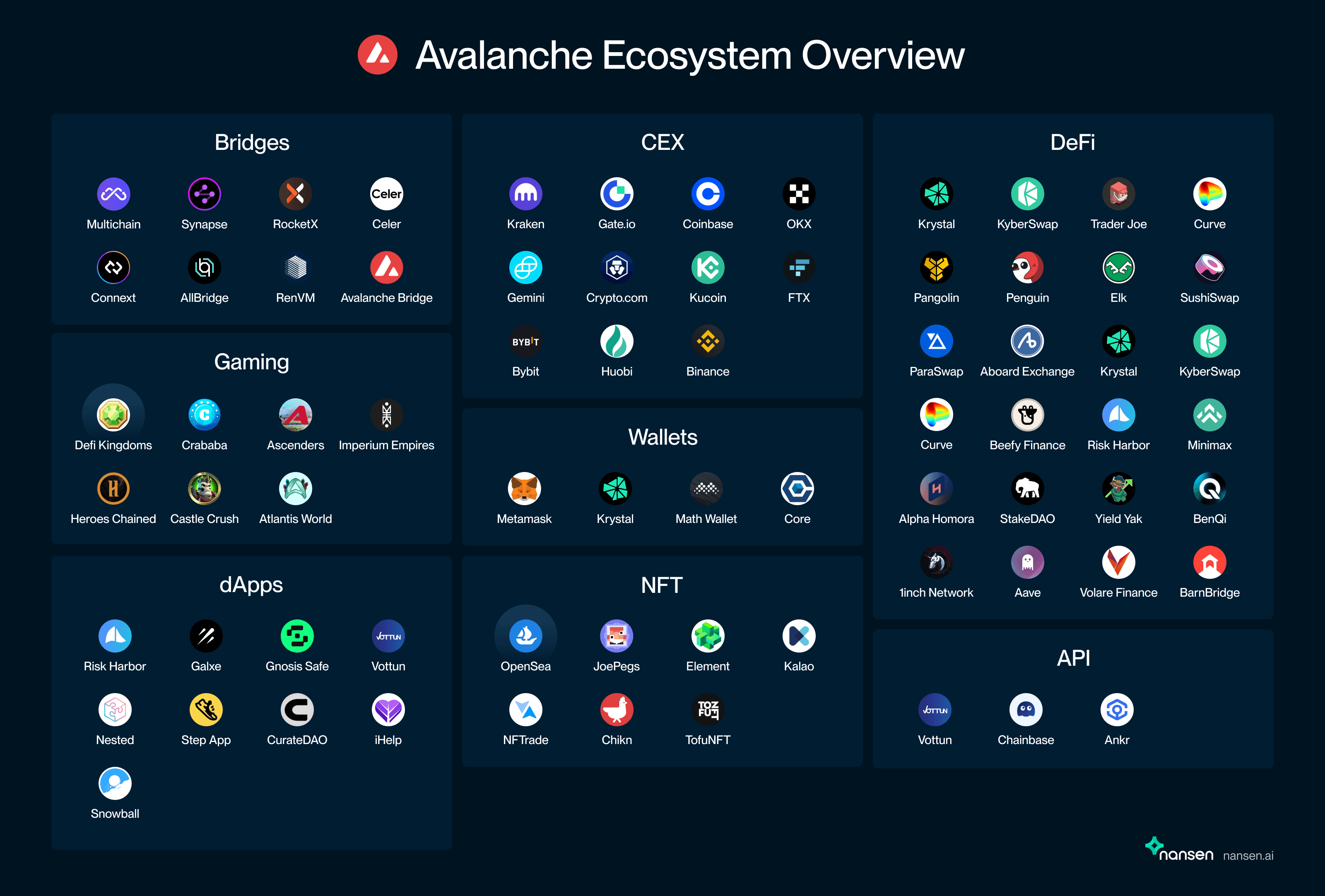 Source: List of Notable dApps in Avalanche, Nansen Query
Avalanche's first genesis code was made available to the public on its mainnet on Sep 21, 2020, making Q3 2022 its 2nd anniversary. Since then, Avalanche has been hosting a vibrant ecosystem of dApps and protocols on its C-chain, which users can explore on the Avalanche Ecosystem page. Two of the most popular on-chain games, Defi Kingdoms and Crabada are hosted on Avalanche Subnets, DFK and Swimmer Network, respectively.
In Q3 2022, there were many exciting updates from Avalanche ecosystem projects and protocols, most notably:
DeFi
Nansen On-chain Data
Monthly Transactions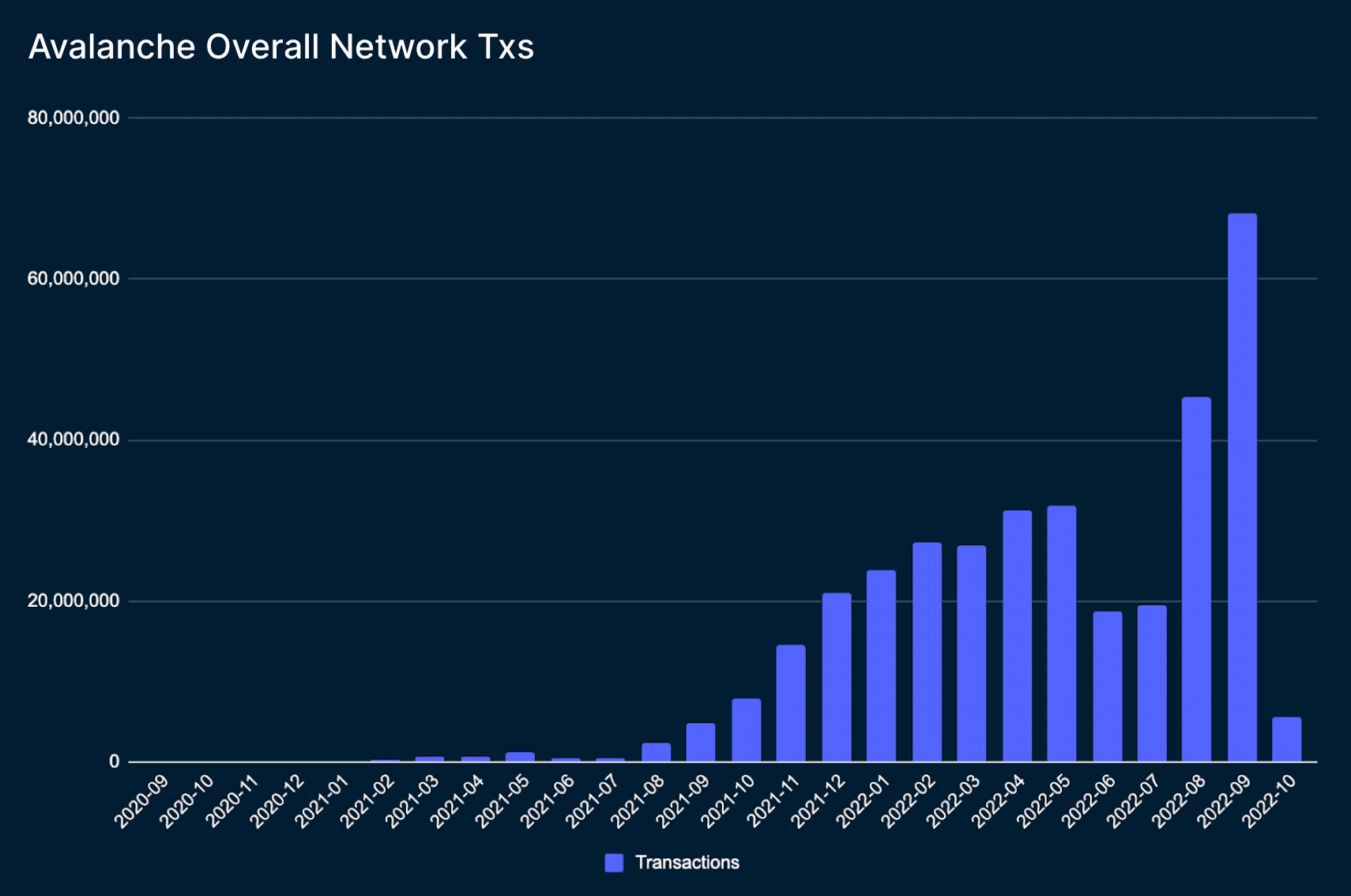 Source: Avalanche Overall Monthly Transactions as at Oct 10, 2022, Nansen Query
Despite the continuing market downturn, Avalanche's overall network transaction count hit an all-time high in September 2022, reaching an aggregate monthly transactions of ~68m. This dwarfed the previous all-time high in August 2022 (~45m transactions).
This major increase in transactions could be attributed to the activities from the Subnets, namely DFK Subnet, which transaction count averaged at ~1.1m per day in Q3 2022.
Daily Transactions on C-Chain
Daily transaction count on Avalanche C-Chain was volatile throughout Q3 2022, on a range between 120-240k transactions. Gas on Avalanche was following a similar trajectory between $15-40k a day. The dates with the highest transactions and gas paid were on Jul 19, 2022 and Aug 19, 2022.
Both dates were dominated by transactions to Avalanche's top DEX, Trader Joe. On Jul 19, Trader Joe was promoting veJOE Boosted Farms of AVAX-USDC pair with ~50-60% APY, while on Aug 19, Trader Joe opened OpenBlox Farm and promised double rewards for a limited time. Beyond these marketing efforts, external market factors might cause a lot of speculation that contribute to these upticks, such as The Fed's meeting on increasing discount rate and 3AC liquidation court document release.
Daily Transactions (vs Ethereum)
When being compared to Ethereum, Avalanche C-Chain's transactions looked relatively stable. This was due to the redirection of GameFi transactions in the previous quarter, as most of the transactions on Avalanche came from the DFK Subnet.
There were several upticks on Ethereum, particularly on Jul 26, 2022 (~1.6m transactions) and Aug 4, 2022 (~1.4m transactions). On both dates, the transactions were dominated by exchanges such as Binance and Crypto.com and USDT exchanges. These upticks might be impacted by several external market factors such as the Fed's discount rate increase announcement and the hack of notable NFT prelist platform Premint. There was also an uptick post The Merge, peaking at ~1.3m transactions, which might have come from a lot of traders speculating on ETH.
Top Entities by Users and Transactions
Using Nansen's comprehensive list of labels, one could analyze the top entities being interacted with based on the number of users and transactions on Avalanche. Trader Joe remained the most dominant entity in Q3 2022, based on both users and transactions.
Based on users, Trader Joe was closely followed by Centre (USDC) and Binance. When sorted by transactions, Thor Financial and Chikn only accounted for less than 30% of Trader Joe's transactions. The table above showed that DeFi entities continued to dominate the Avalanche C-Chain ecosystem, thanks to its low fees and fast time-to-finality. NFT and GameFi were relatively popular as well, although they tend to move to their own Subnet quickly to accommodate the amount of users and transactions.
Daily Avalanche Bridge Volume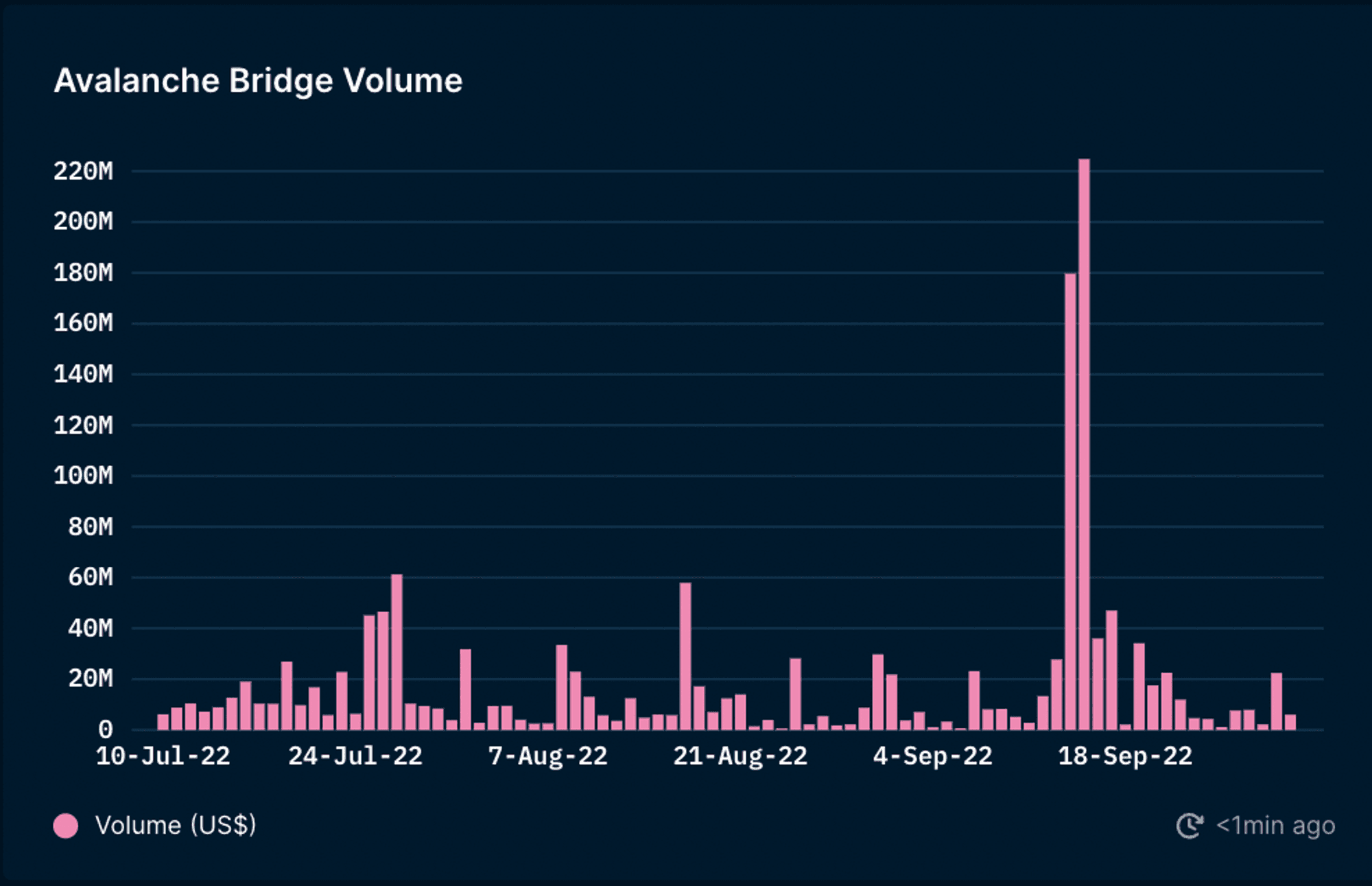 Source: Daily Volume of Avalanche Bridge, Nansen Query
In Q3 2022, Avalanche Bridge (ETH-AVAX) showed some volatility, within a range of ~$600k to ~$61m per day, with the exception of the days leading up to The Merge on Sep 14-15, 2022.  The sum volume was ~$400m on those two days alone, proving that The Merge had some impact on EVM-compatible chains. The low fees and fast transaction finality offered by Avalanche's C-Chain prompted many traders to conduct their trades there instead of on Ethereum.
Note: the chart only shows transactions from Jul 10, 2022, as prior to that date, the funds were migrated from the old Avalanche Bridge contract address resulting in an outlier volume (~$2.2b).
Top Smart Money Transactions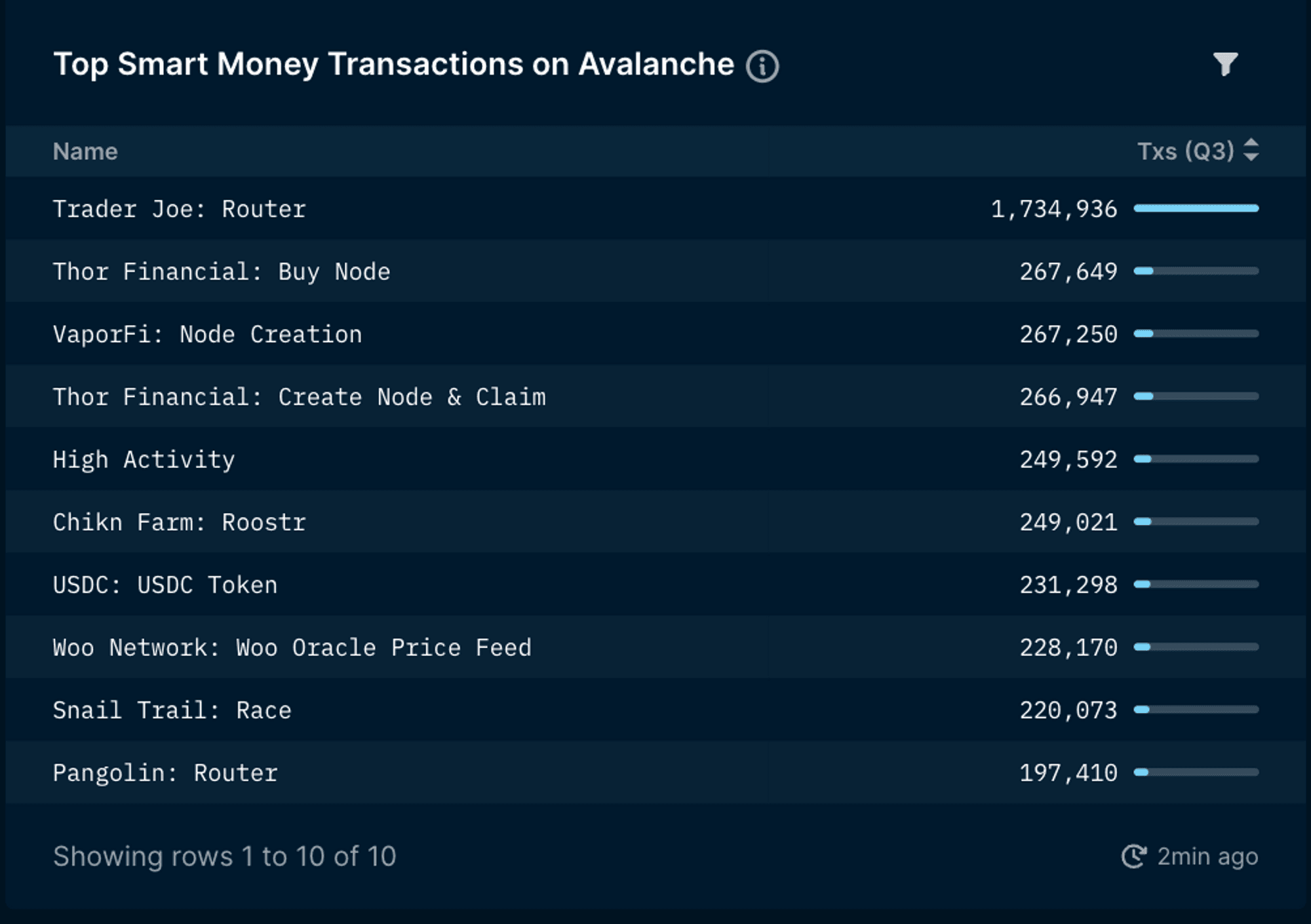 Source: Top Smart Money Transactions on Avalanche C-Chain, Nansen Query
In Nansen, one of the most powerful features is Smart Money, which contains a list of labels for wallets that are very active and prolific on-chain. Following these experienced, well-informed, or "in the know" investors and entities might prove helpful. In Q3 2022, the top entities that the Smart Money wallets interacted with were aligned with the entities shown in the entity stats above, namely Trader Joe, Thor Financial, VaporFi, and Chikn. Besides that, Woo Network, Snail Trail, and Pangolin were also popular among Smart Money wallets.
Check out this page for how the Smart Money categories are defined and how you can use those labels on Nansen!
Notable Projects
Chikn
Chikn is an expandable NFT and GameFi platform on Avalanche, utilizing Tri-Token architecture to address the current hyper-inflationary dual token system that many GameFi platforms are facing.
Chikn has amassed one of the largest and most active communities in the Avalanche ecosystem and planned to release more products in the near future, such as Coqfighting PVP, Roostr, NFT Breeding, and LP Farm.
At the end of Q3 2022, Chikn introduced Foraging, which is idle gameplay and an introduction to its NFT upgradability and ecosystem growth.
### Woo Network
Woo Network is a deep-liquidity network with a range of applications to provide users with various trading executions and yield generation strategies at lower or zero cost.
Currently there are three products offered by Woo Network: -- WOO X is a zero-fee trading platform for professional and institutional traders, equipped with high liquidity and ease of execution. One of its features is fully customizable modules for workspace customization. -- Wootrade is liquidity market for institutional clients, such as exchanges, so they can deepen their order books and tighten their bid/ask spread. -- WOOFi is a suite of DeFi products that include DEX and yield farming. It aims to help users get the best pricing, tightest bid-ask spreads, and yielding opportunities when trading, while also expanding Woo Network's liquidity.
On Aug 4, 2022, WooFi introduced Supercharger vaults to stakers, where they can deposit single-sided assets to earn yield. This aims to reduce the risk of impermanent loss and capital inflexibility typically found in traditional liquidity pair staking.
## Closing Thoughts
Although the market sentiment remained bearish, Ava Labs and the entire Avalanche ecosystem carried on building and upgrading their products to accommodate the excitement of its loyal users. This was proven by the all-time high transactions in Q3, contributed mostly by its Subnets. With the Banff Upgrade, Avalanche provided more options for builders when it came to Subnet personalization, making Subnet architecture increasingly enticing for more dApps and protocols.