Disclaimer: Nansen has produced the following report as part of its existing contract for services provided to Avalanche (the "Customer") at the time of publication. While Avalanche has the right to review and provide feedback to Nansen, Nansen maintains full editorial control over the publication of this report. All views expressed are the independent opinions of Nansen's research analyst(s) who are the author(s) named in this report. This report is intended for informational purposes only and does not serve as investment, financial, professional, or other advice. For more information, please refer to the disclaimer at the end of this report, as well as our Terms of Service.
Overview
Avalanche network is a smart contract platform designed with a focus on scalability. To execute this vision, Avalanche provides a multichain framework consisting of Subnets that scale the network, with the most notable being the primary network, comprising P, X, and C chains. The popular C-chain on Avalanche Primary Network is EVM-compatible. Within Avalanche's P-Chain, application-specific blockchains can be spun up in the form of Subnets. Subnet, which stands for subnetwork, represents a set of validators who achieve consensus on the state of the network. A Subnet can be thought of as the bottom layer of the stack, and many blockchains can compose on top of a single Subnet.
Similar to Avalanche's Subnets, the concept of application-specific blockchains was adopted by many other chains to support the massive growth of its dApps, such as Polkadot's Parachains and Cosmos' Zones. Generally, all of these application-specific blockchains provide builders with the ability to customize multiple layers of their stack, such as their security model, execution logic, fee regime, and consensus mechanism. However, Avalanche's Subnet architecture offers faster finality and support for any custom Virtual Machine, number of Subnets created, and validator count. This gives a wide range of configuration parameters to builders for their Subnet.
In this quarterly report, we will look into the performance of the Avalanche network, particularly its C-chain, in Q4 2022 and lay out the key developments implemented by Avalanche and its ecosystem. Although the crypto market landscape has been challenging, Avalanche and its ecosystem remained steadfast in building new products and releasing new features.
Check out Nansen's previous reports on Avalanche and other chains here.
Key Developments: Q4 2022
Avalanche Updates
Core App
Core is a project developed by Ava Labs, which was designed to enhance interoperability in crypto, flatten the learning curve for users, and drive adoption for more Web3 applications.
As part of its efforts in creating a seamless experience for users to explore web3 space, Core released two new product suites this quarter, Core Web on Oct 20 and Core Mobile Wallet on Dec 13.
Core Web is a free, all-in-one command center giving users a more intuitive and comprehensive way to view and use Web3 across the Avalanche network, Avalanche Subnets, and Ethereum.
Core Mobile is a free multichain mobile wallet suitable for experts and those new to crypto while keeping crypto assets and digital collectibles safe under self-custody.
On top of these products, Core released support in multiple languages, 10 at the time of writing, with more on the way.
Ecosystem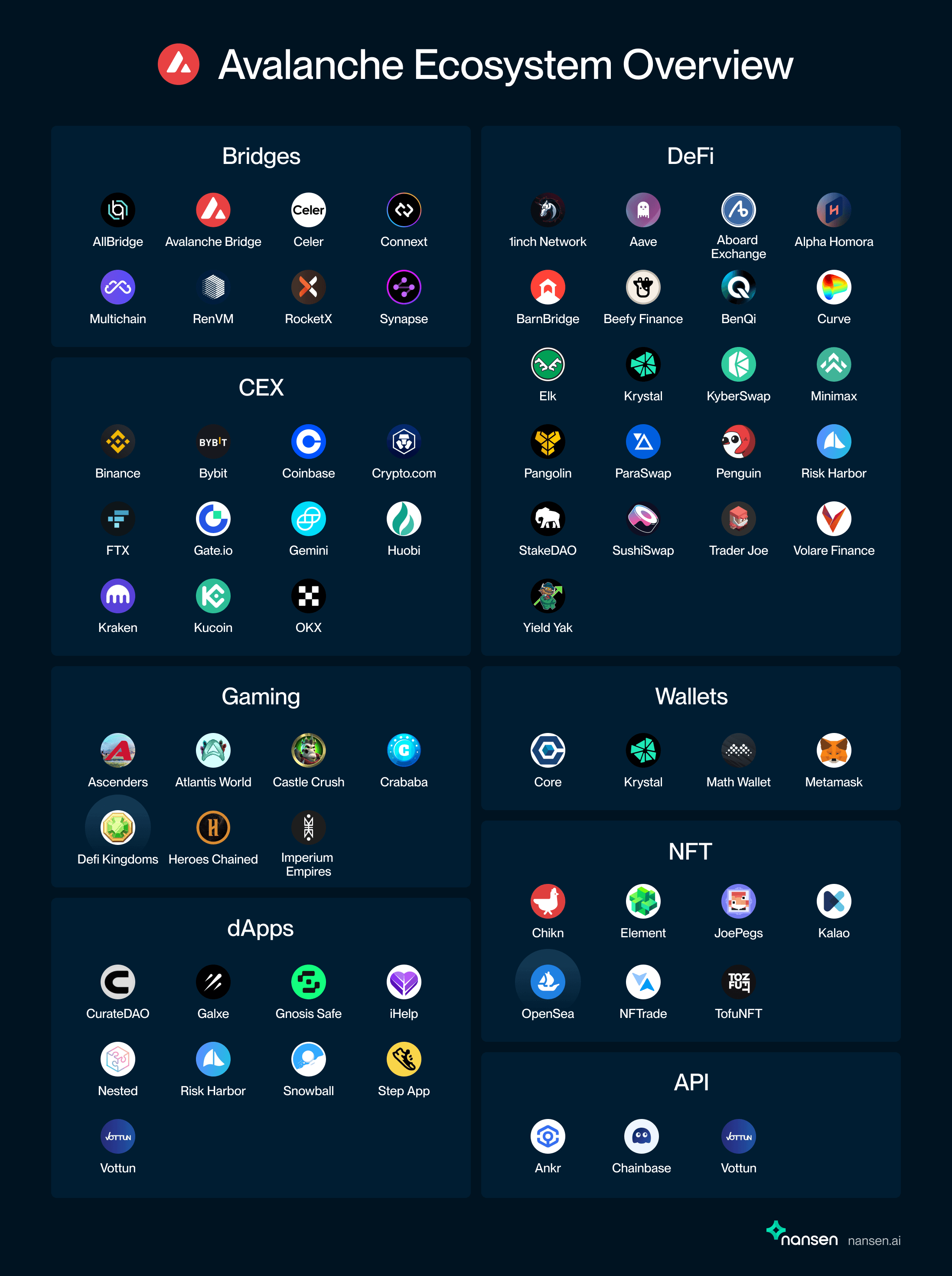 Source: 
Avalanche Ecosystem Overview
Avalanche hosts a thriving ecosystem of dApps and protocols on its C-chain and Subnets, which users can explore on the Avalanche Ecosystem page. In Q4 2022, there were many exciting updates from Avalanche ecosystem projects and protocols, most notably:
DeFi

NFTs & Gaming

Enterprise

The world's largest financial derivatives exchange, CME Group, launched three new cryptocurrency reference rates and real-time indices on Oct 31, which includes AVAX. The rates and real-time indices are calculated and published daily by CF Benchmarks. CME CF Reference Rates and Real-Time Indices are based on robust methodologies that have regular expert oversight and are designed to meet the growing need for transparent, regulated, and round-the-clock pricing.
World's leading financial investment and trading platform, Robinhood, launched its first learn-to-earn campaign featuring Avalanche on Dec 14. This campaign gives users an opportunity to earn $AVAX while exploring Avalanche.
In early October, Gemini started listing and accepting inbound transfers of AVAX. The listing will increase the accessibility of Avalanche to a broader set of users.
INX Group, a broker-dealer and inter-dealer broker, announced in early December its plans to fully integrate the Avalanche Blockchain with its platform INX.One. The platform is the world's first and only fully-regulated, end-to-end platform for listing and trading both SEC-registered security tokens and cryptocurrencies.
On Dec 16, the leading cryptocurrency custodian firm, BitGo, started offering clients the first and only Avalanche staking solution from qualified custody. BitGo has previously supported custody for AVAX C-chain, as well as assets built on the Avalanche chain. In addition to expanding client access to the DeFi ecosystem, BitGo now offers a secure and simple AVAX staking solution for institutional and enterprise partners.
Nansen On-chain Data
Cumulative Transactions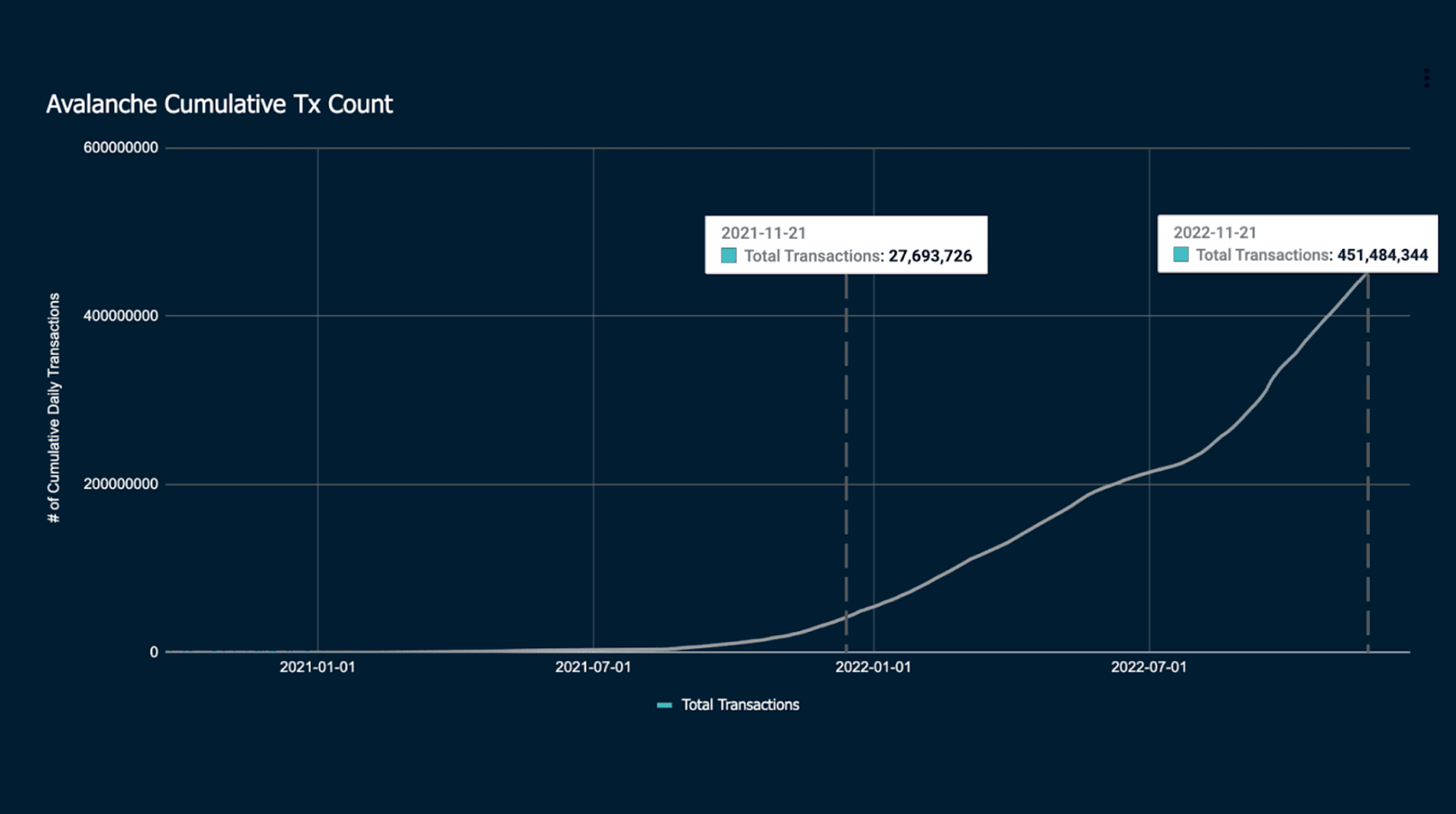 Source: Cumulative Transactions on Avalanche, Source: Nansen Query
Despite the bearish market, Avalanche's overall cumulative transaction count broke 450m transactions on Nov 21. A year prior, the network processed only less than ~28m transactions, marking a 1,507% year-over-year increase. This significant increase in transactions could be attributed to the activities from the Subnets, most notably DeFi Kingdom's DFK Subnet which reached 200m transactions on Nov 13, 2022.
Daily Transactions on C-Chain
Daily transaction count on Avalanche C-Chain was volatile throughout Q4 2022, ranging between ~100k-230k transactions except for two spikes on Oct 14 and Nov 9. The transactions count shot up on those two days to ~295k and ~324k. The average gas paid followed the same trajectory as the transactions.
On Oct 14, 2022, around a third of the transactions came from XEN Crypto, a community project that gives people free tokens to interact with the contract. While on Nov 9, most of the transactions came from Trader Joe, which was likely due to the FTX bank run and its subsequent collapse. This led to high activity within Avalanche C-Chain caused by mass panic and speculations surrounding the event.
Daily Transactions (vs Ethereum)
Compared to Ethereum, Avalanche C-Chain's transactions looked relatively stable except for the two spikes mentioned in the previous section. There was an uptick on Ethereum on Dec 9, which surpassed 1.8m transactions, of which around half the transactions were interacting with Binance. This was likely caused by the concerns surrounding Binance's liquidity, which came after the FTX collapse.
Top Entities by Users and Transactions
Using Nansen's comprehensive list of labels, one could analyze the top entity interactions based on the number of users and transactions on Avalanche. Trader Joe was overtaken by XEN Crypto this quarter with nearly double the amount of users, even though it's still dominating the number of transactions.
Other notable entities in terms of users are the stablecoins (USDC and USDT), Galxe, and Binance. Meanwhile, the transactions from Thor Financial and Chikn Farm both surpassed 500k transactions, followed by GMX, USDC, and XEN Crypto.
Top NFT Collections by Volume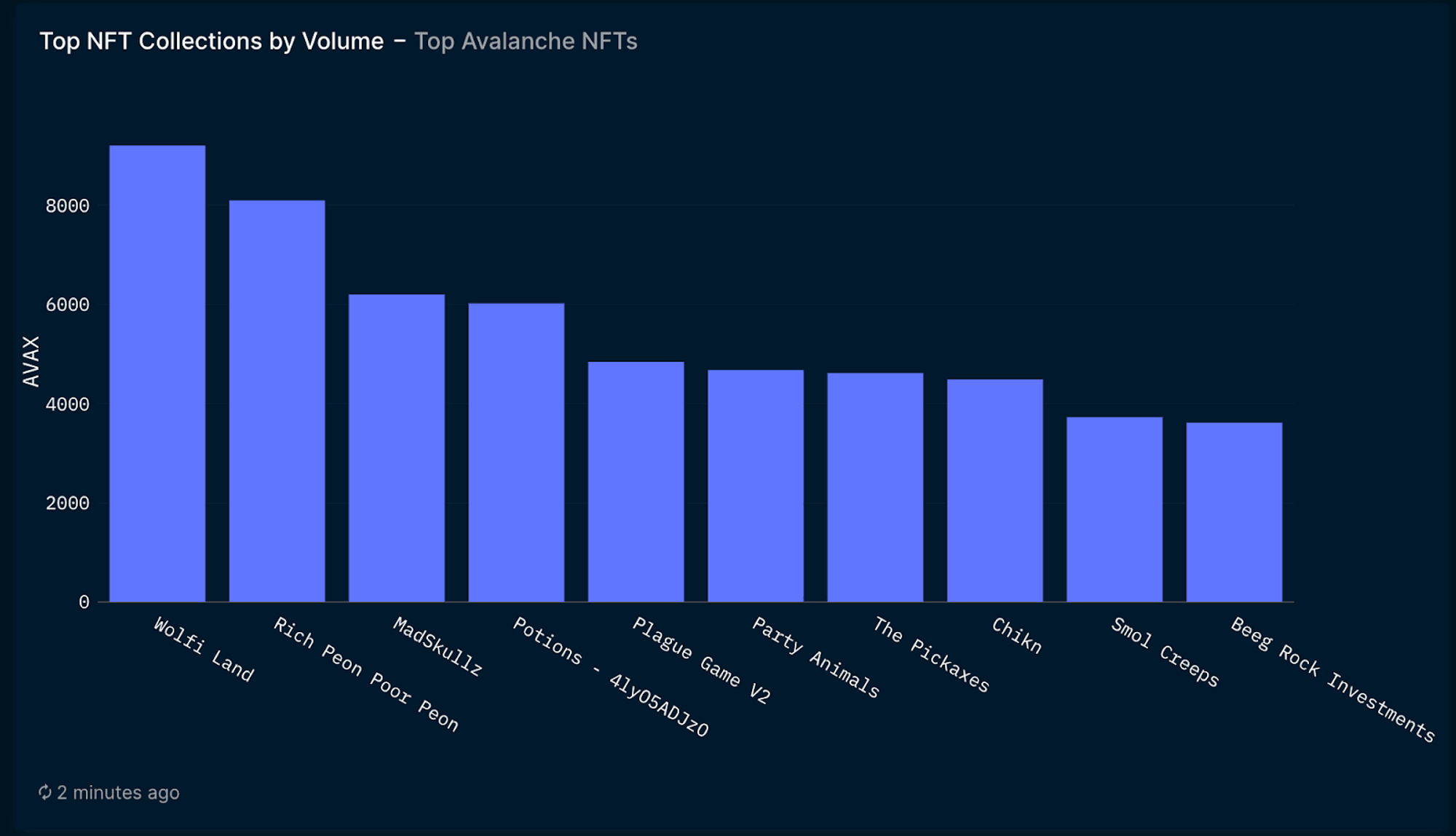 Source: Top NFT Collections on Avalanche, Source: Nansen Query
In Q4 2022, one of the most exciting sectors in Avalanche was the NFT sector. With OpenSea announcing its expansion into Avalanche and targeted marketing efforts, NFT volumes started to pick up in October despite the bearish market condition. Wolfi Land was the top NFT collection on Avalanche in Q4, with a volume above 9000 AVAX. Check out this page to see the rest of our Avalanche's NFT data coverage.
Notable Projects in Q4 2022
JoePegs
JoePegs is an NFT marketplace built by Avalanche's leading DEX, Trader Joe.
Since its launch in May, it has grown rapidly to be the largest NFT marketplace on Avalanche with over $3.4m in secondary NFT sales and 12k users.
JoePegs has an in-house production unit, Joe Studios, as well as an NFT Launchpad, which has onboarded over 50 projects to the Avalanche ecosystem.
GMX
GMX is a decentralized spot and perpetual exchange that supports low swap fees and zero-price impact trades, which are supported by a unique multi-asset pool that earns liquidity providers fees from market making, swap fees, and leverage trading.
GMX has a native token called GMX, which functions as a governance, utility, and value-accrual token for the GMX protocol. Users can stake GMX tokens and earn a portion of GMX's protocol fees, plus benefit from other incentives.
Its dynamic pricing is supported by Chainlink oracles and an aggregate of prices from leading volume exchanges.
Closing Thoughts
There were many events that caused mass panic and hysteria throughout Q4 2022, notably FTX's Bank Run and its subsequent collapse. This gave the general perception that we are still in the middle of crypto winter. In contrast, as can be seen in the number of overall transactions, Avalanche clearly solidified its user base, particularly on its Subnets. Ava Labs and Avalanche ecosystem continued building useful products and launching new Subnets for its users. With the launch of Core Web and Mobile this quarter, users can now easily navigate through Avalanche network and other chains with just a single product, improving the user experience for new and veteran users.