Disclaimer: Nansen has produced the following report as part of its existing contract for services provided to Fantom (the "Customer") at the time of publication. While Fantom has the right to review and provide feedback to Nansen, Nansen maintains full editorial control over the publication of this report. All views expressed are the independent opinions of Nansen's research analyst(s) who are the author(s) named in this report. This report is intended for informational purposes only and does not serve as investment, financial, professional, or other advice. For more information, please refer to the disclaimer at the end of this report, as well as our Terms of Service.
Overview
Fantom is an EVM-compatible smart contract blockchain platform with a unique consensus mechanism called Lachesis. Due to Lachesis' asynchronous and Byzantine Fault-Tolerant nature, the applications within Fantom have fast finality, high throughput, and bank-grade security.
As the impact of extreme events in Q2 settled down, the bearish sentiment in the overall crypto market hadn't changed in Q3. Despite that, Fantom and its ecosystem projects continued to build and release new products. In this report, we will look into the performance of Fantom in Q3 2022 and the strategies implemented by Fantom and its ecosystem.
Check out Nansen's previous reports on Fantom and other chains here.
Key Developments
Fantom Network Updates & Governance
The amount of FTM staked by validators to secure the Fantom network increased by 2% throughout Q3 2022, which peaked at 51% of all FTM in circulation (~1.4b).
Fantom's block explorer, FTMScan, added ERC-1155 support on Jul 19, 2022. Now users can check all ERC-1155 token-related transfers.
On Aug 1, 2022, Fantom Governance passed the Ecosystem Support Vault proposal. This meant that a third of the 30% burn rate from transaction fees goes to the vault that supports proposals from the community. Each proposal requires 55% in both turnout and yes vote to pass.
Fantom Foundation passed a proposal on Oct 5, 2022, to reduce validator rewards as fee income for validators and stakers has grown by 18x YoY. This put the network in a stronger position, signaling a longer run rate for emissions by adjusting rewards to the market rate. With the passing of this proposal, the staking APR is now 6% and the duration of staking rewards emissions is 4.7 years.
Fantom Foundation, in partnership with Dedaub, introduced Contract-library and Watchdog to Fantom Mainnet. Contract-library is a smart contract explorer, and Watchdog is an analyzer program that identifies vulnerabilities in smart contracts. With these deployments, builders on Fantom are provided with additional smart contract security.
Integrations and Partnerships
Fantom DAG 2.0
Fantom continued to improve its network infrastructure by introducing DAG 2.0 to its Lachesis consensus protocol, making transactions faster and more affordable.
Transactions on Fantom are stacked in a DAG (Directed Acyclic Graph) and approved simultaneously. Fantom's DAG 2.0 utilizes past event blocks (yet to be confirmed) so that more event blocks can be added quicker. They are conceptually stacked and then approved at once.
Ecosystem
In Q3 2022, there were many exciting updates from Fantom's ecosystem projects and protocols, most notably:
The release of GameFi Trailer, which showcased numerous pioneering GameFi projects (either launched or in beta-phase) in Fantom, including Penguin Karts, Fantom Survivor, and Encore Metaverse.
The launch of Vertical Blocks, a podcast by the Fantom Foundation. The podcast aims to educate the Fantom community and broader web3 ecosystem about the technology developments being built and hear perspectives from the team on Fantom.
Launches

On Sep 14, 2022, Unbound Finance, a yield optimization protocol providing interest-free borrowing, went live on Fantom.
Bridge and DEX aggregator Swidge launched on Fantom, bringing user-friendly one-click swaps on Sep 16, 2022.
Revest Finance announced the launch of Resonate on Fantom. Resonate is a yield futures protocol built by Revest Finance on top of Revest's Financial NFT (FNFT) technology.

New Version Releases

Top Fantom's DEX Beethoven-X launched a complete overhaul of their UI through V2 release on Aug 19, 2022.
SpiritSwap introduced V2 of their app on Aug 11, 2022. The V2 app added new features such as a hybrid AMM model, new vAMM (Solidly adaptation), the addition of Stable (sAMM), linear sAMM, and weighted pools (V2.1). SpiritSwap also restructured its fees with this update to dynamic fees.
PaintSwap released V3 of their NFT marketplace on Jul 30, 2022. The updates included non-custodial listing, NFT Vaults, no-fee listing, bulk transfers, multi-mint, and many more.
Nansen On-chain Data
Daily Transactions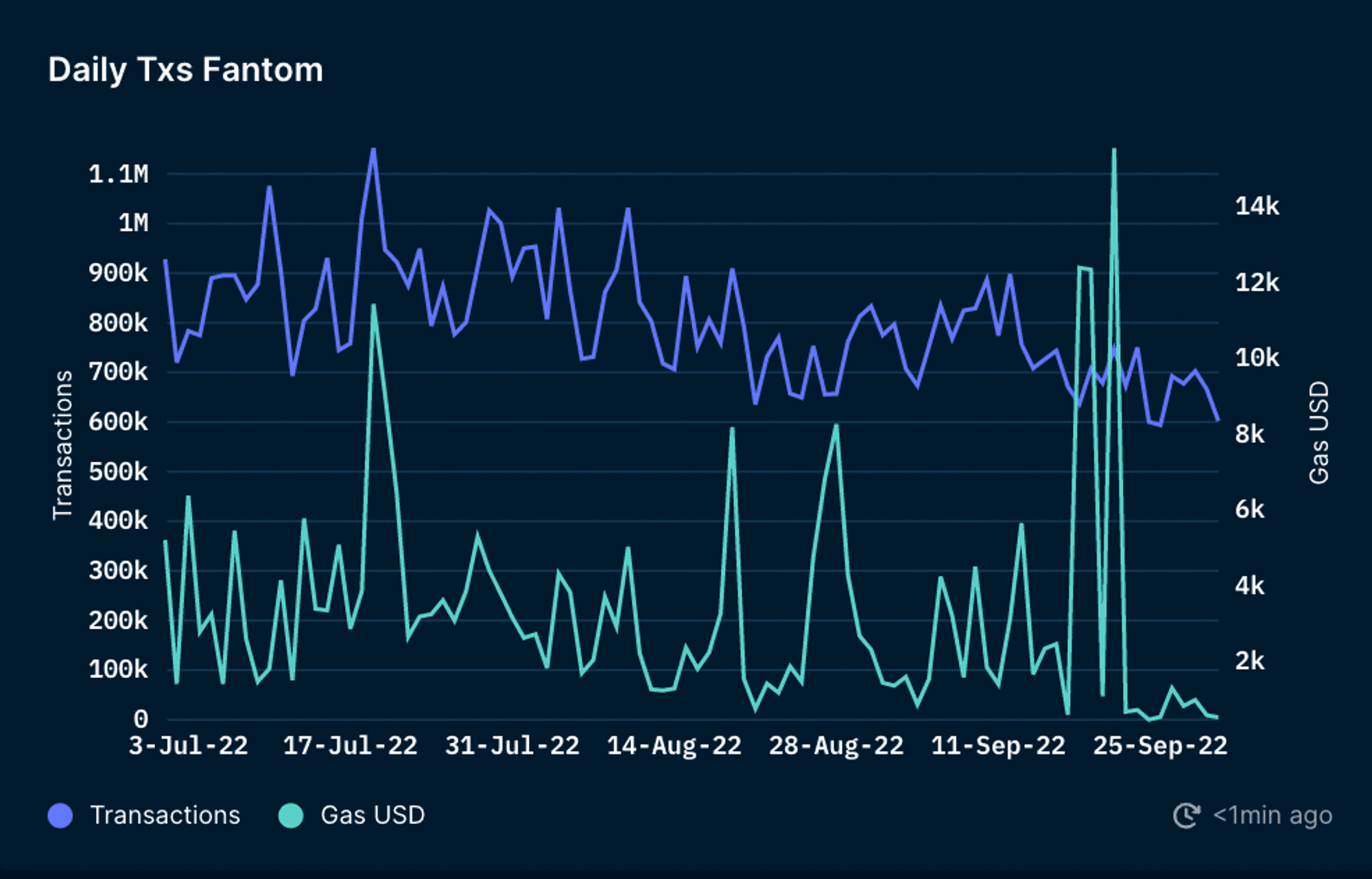 Source: 
Daily Transactions on Fantom
Daily transactions count on Fantom was volatile throughout Q3 2022, on a range between 600k-1.2m transactions, which was slightly higher than the previous quarter. Gas on Fantom had several upticks in Q3 2022, with a peak above $14k. The highest transaction count was on Jul 19, 2022, caused by speculation on the market surrounding The Fed's discount rate hike and 3AC liquidation court document release.
In contrast, the gas peaked at above $15k on Sep 15, 2022, while the transaction was relatively low (~747k), which could be attributed to an internal factor within the Fantom ecosystem.
Daily Active Addresses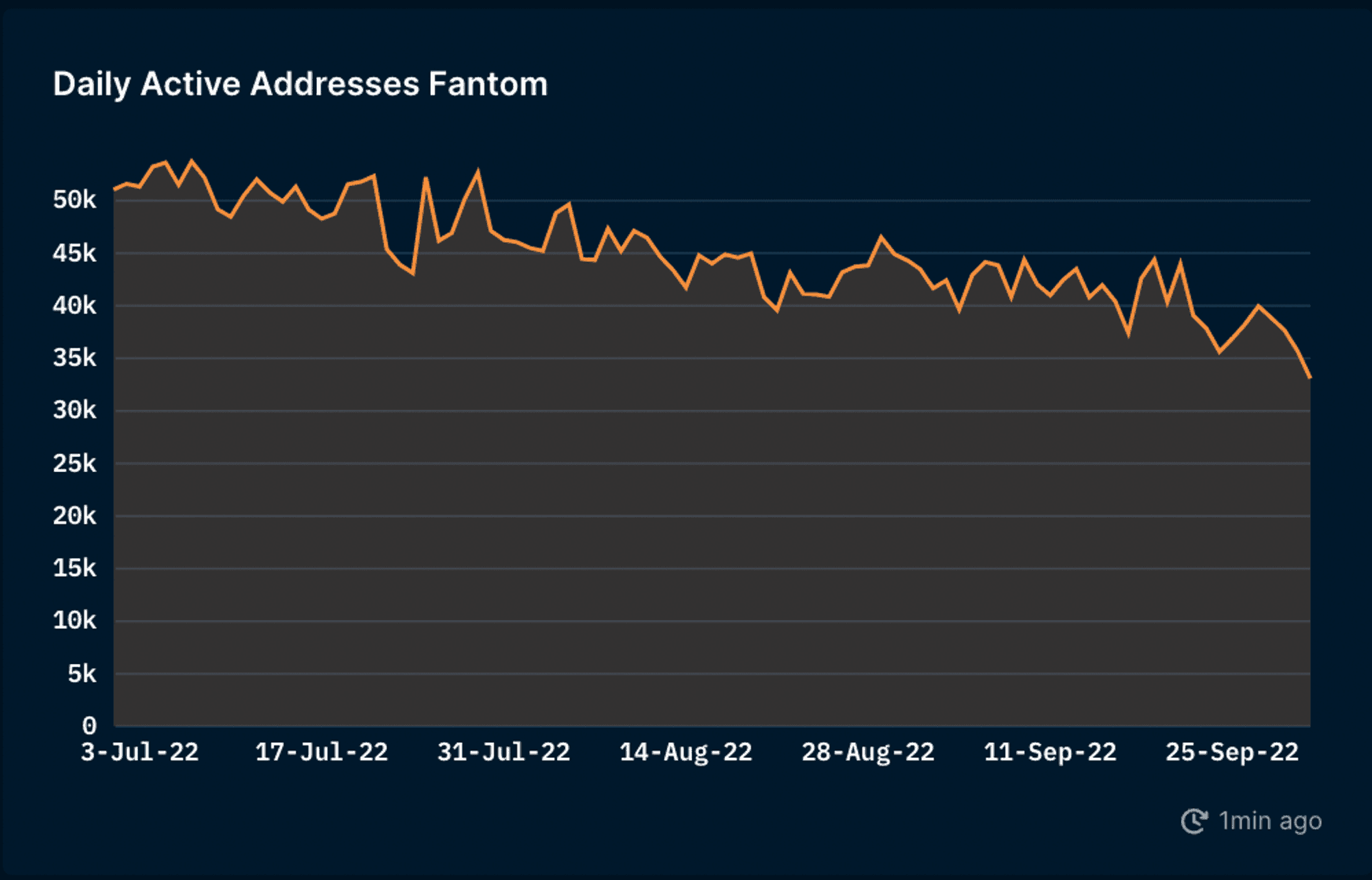 Source: 
Daily Active Addresses on Fantom
Daily active addresses on Fantom continued to decline further in Q3 2022, with an all-time low just above ~33k addresses. At the beginning of the quarter, some days saw more than 50k active addresses, however, this trend didn't continue past August. This could be due to the general bearish sentiment on the crypto market throughout Q3 2022.
Daily Transactions (vs Ethereum)
Compared to Ethereum, Fantom's transaction count looked volatile. The two chains were relatively close in transaction count, although Fantom never surpassed Ethereum's in Q3 2022.
There were several upticks on Ethereum, particularly on Jul 26, 2022 (~1.6m transactions) and Aug 4, 2022 (~1.4m transactions). On both dates, the transactions were dominated by exchanges such as Binance and Crypto.com, and USDT exchanges. These upticks might be impacted by several external market factors such as the Fed's discount rate increase announcement and the hack of a notable NFT allowlist platform, Premint. There was also an uptick post The Merge, peaking at ~1.3m transactions, caused by traders speculating on ETH.
Top Entities by Users and Transactions
Using Nansen's comprehensive list of labels, one could analyze the top entities being interacted with based on the number of users and transactions on Fantom. SpookySwap continued its streak from Q2 2022 to be the entity that gained the most users in Q3 2022, although the number of users this quarter was less than half of the previous quarter. Centre (USDC) followed behind at just above 50k transactions.
MEV trades dominated the transactions in Q3, with over 11m transactions in Q3 and nearly 100m all-time transactions, followed by MetaPay with slightly over 9m transactions. Looking at the table above, the top 10 entities in both categories were all DeFi protocols, yield optimizers, and exchanges, solidifying DeFi as the preferred sector for Fantom's users.
Daily Fantom Multichain Bridge Volume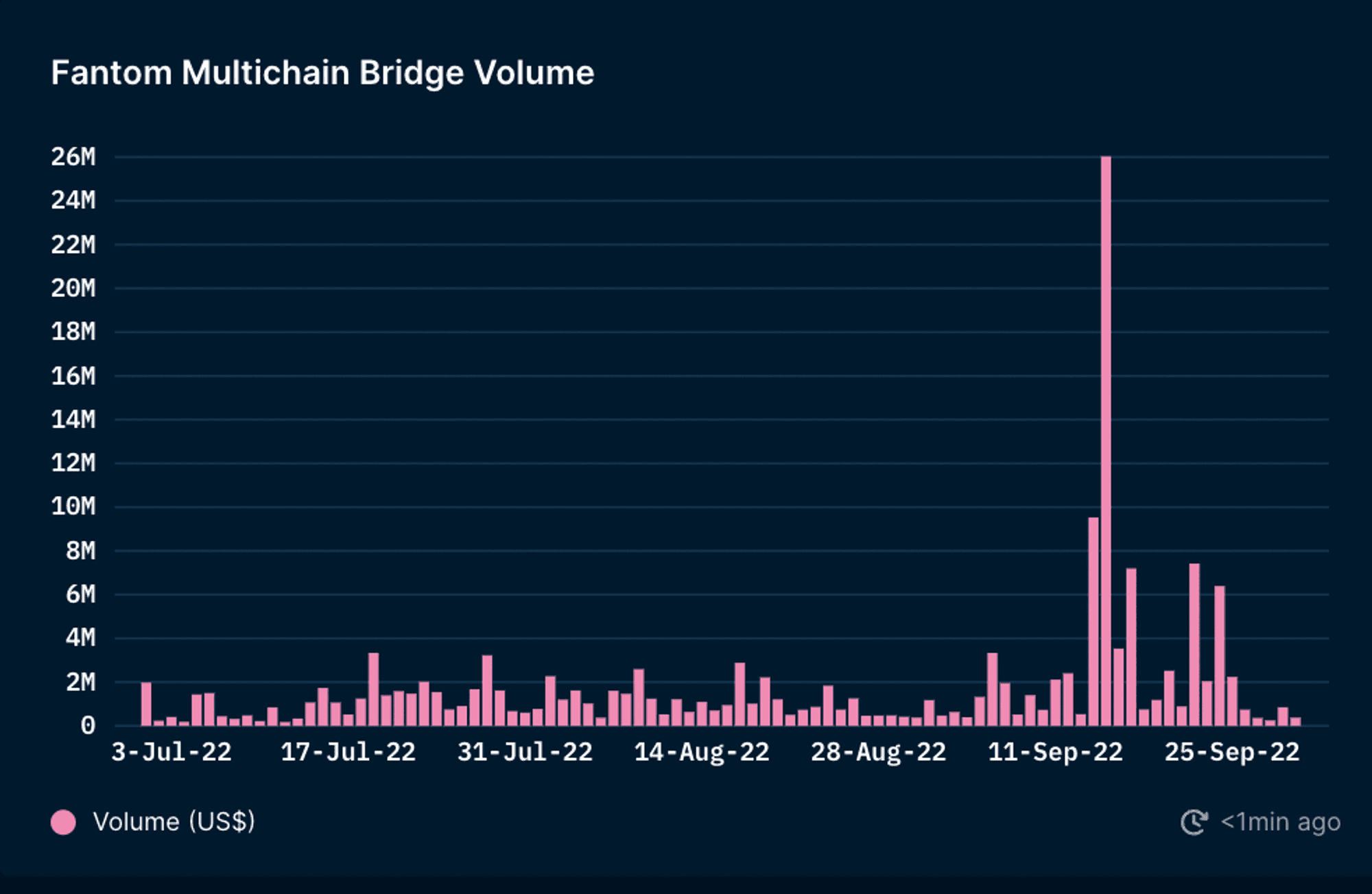 Source: Daily Volume of Multichain Bridge from Ethereum to Fantom, Nansen Query
One of the most interesting metrics in Fantom this quarter was the bridge volume, particularly Multichain, a popular bridge platform. There was a significant uptick on Sep 14-15, 2022, leading up to The Merge event. Before this, the average daily volume was ~$1.1m. However, on those two days alone, a total of~$35m was bridged to Fantom, before showing some volatility again within a range of ~$175k to $7.5m for the remainder of Q3 2022.
This showed that The Merge had an impact on the EVM-compatible chains, including Fantom. The fast transactions finality and low fees offered by Fantom pushed more people to conduct their trades there.
Notable Projects
Liquid Driver
LiquidDriver is the first liquidity mining dApp providing liquidity-as-a-service in the Fantom ecosystem. Users deposit LP tokens in LiquidDriver farms, which are then redeposited in their partner farms to generate yields.
LiquidDriver helps users to navigate the liquidity market in Fantom and efficiently manage their DeFi investments through Shadow Farms, where the yields are compounded into staked governance tokens, while a performance fee is sent to xLQDR holders.
This project may not be as popular as its DEX counterparts like Beethoven-X or SpookySwap, but the yields offered are relatively competitive for users.
PaintSwap
Although Fantom is mostly known for its DeFi projects, PaintSwap emerged as the go-to NFT Marketplace in the network for its various useful features and large collections.
With the release of PaintSwap V3, it now supports all ERC721 & ERC1155 NFTs, iNFT/fNFTs, bulk buy/list/transfer/offer/mint, floor sweeping, instant NFT Liquidation, the collection offers & auctions using novel vaults.
PaintSwap also offers a DeFi product where users can currently farm FTM-BRUSH and FTM-BEETS as well as staking their BRUSH.
Closing Thoughts
In Q3 2022, the market sentiment remained bearish, which was reflected in the number of active users and transactions on Fantom. Nevertheless, Fantom ecosystem continued to be a great space for innovation, collaboration, and the formation of community. Fantom developers upgraded the DAG technology that supported the network, resulting in faster transactions and cheaper fees. Fantom also entered into capital partnerships with several notable VCs, enabling early-stage projects to receive funding.