Last Thursday's unexpected XRP ruling by Federal Judge Analisa Torres of the Southern District of New York sent a lightning bolt through the crypto industry.
This was the first we've heard on the case since the SEC sued Ripple in 2020 for offering unlicensed securities. While an initial ruling was on everyone's radar, the timing and decision caught all by surprise.
What puzzled us about the decision was that selling XRP OTC to institutional investors (with due diligence and investment agreements) was an 'investment contract' and therefore a securities offering; while selling XRP on an exchange to retail (anonymously and without disclosures) was not an 'investment contract' and therefore not a securities offering.
As much as all of us in crypto want clear and fair regulations, we're afraid this opens up Pandora's Box on a whole other level again.
Of course, many in the community are celebrating the SEC's loss, freedom from securities laws and the right to choose where they put their money.
Perhaps this will level the playing field for investors in good projects - where everyone gets their coins directly without the cheap initial round institutional OTC offerings that are later flipped onto retail for exponential profits at ICO.
However, if the law of the ruling is to go by - that lack of disclosures coupled with anonymous selling on exchanges are the "get out of securities jail free" card, then we can expect a lot of bad new token projects with only empty promises will be ready to dump their tokens on exchanges to unsuspecting retail investors.
This could turn the Altcoin market into even more of a rodeo than it was before.
However, we're not here to comment on the merits of the case or the decision, but look at its market impact.
While the case will carry on for the institutional part where the SEC's motion was granted, the SEC will no doubt appeal the retail part where it was denied. However, this will take another few years for the 2nd circuit themselves to reach a judgment, and in the interim this current ruling will stand.

In that interim, the ruling lifts a big veil of securities overhang from ETH and the Alts, and after the initial short squeeze last week ran into the first long-term supply zone, we expect prices to trend upwards in a more measured fashion. For ETH, this means hugging the parabolic trendline upwards into the 2140-2300 major resistance zone (Chart 1).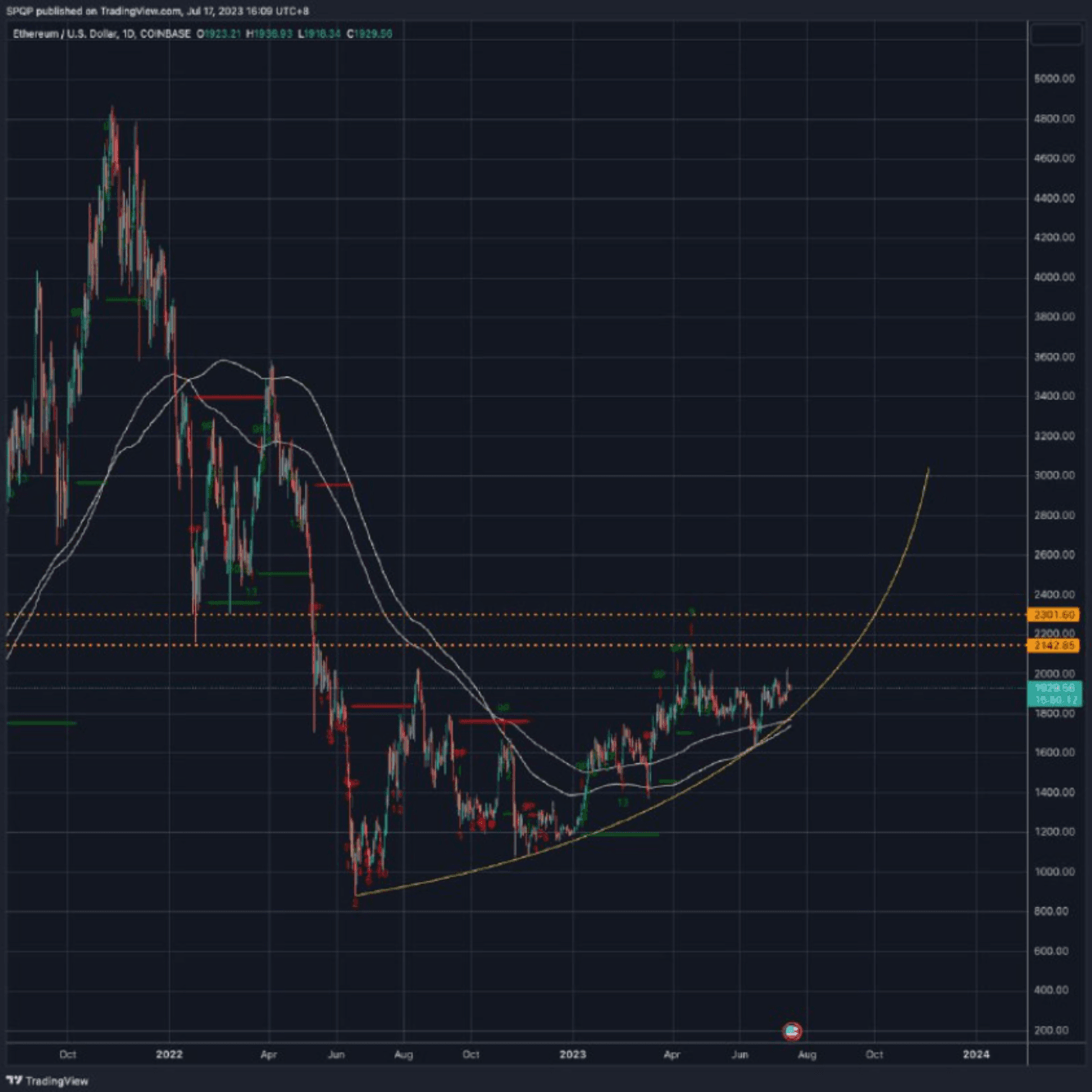 Source: Chart 1
The biggest beneficiaries of this ruling are crypto exchanges, most of all Coinbase. Until the SEC's decision on a physical ETF and the ruling in their own case of unregistered securities exchange against the SEC, both at least some months away, we expect the 116 resistance to break imminently and drive a short squeeze that takes us 30-40% higher (Chart 2).
Source: Chart 2
BTC however was being set up as the 'anti-security' coin, and this decision has the opposite effect on its alternative appeal. While we continue to expect BTC price to range and drift lower in line with our Supermoon calendar, BTC dominance is likely to break its recent uptrend and move lower again (Chart 3), at least until the BTC physical ETF decision, or when macro factors take over again.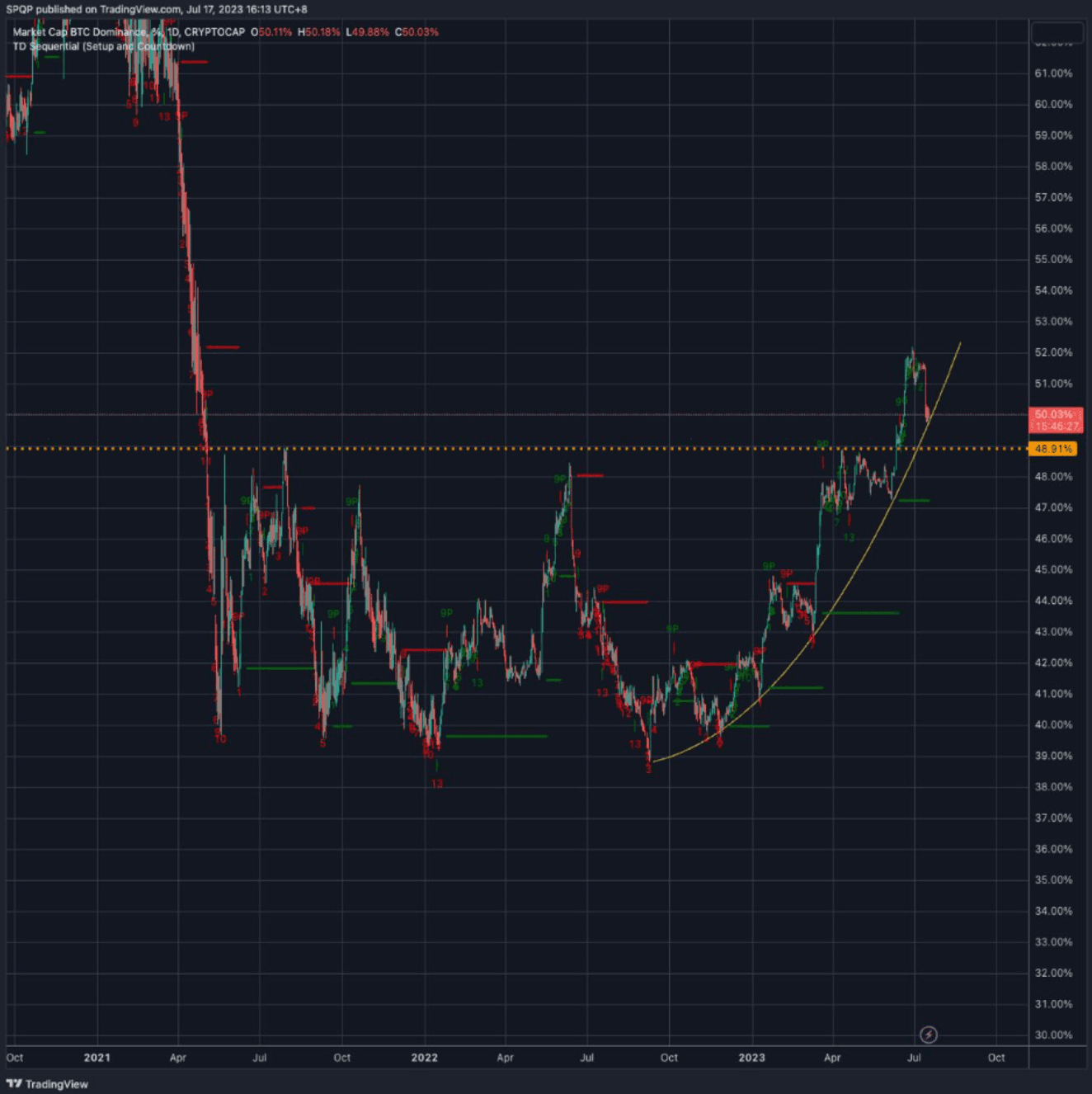 Source: Chart 3
The macro calendar is quiet until the next FOMC decision on 27 July, but a 25bp rate hike there is locked already and we don't see anything on the calendar that can shake the tape until mid-late August at the earliest.
For more information, visit https://qcp.capital/ and follow us on Telegram, Twitter and LinkedIn.