Global markets are beginning to display early signs of waking from its range-bound summer slumber, but nothing to suggest the end to this over 2 month long consolidation is imminent.
Since the start of July when we called for a short-term end in the rally, " our favoured trade to play this is selling end-Sep 33k to 35k calls, and using the premiums to buy 30k puts....structurally (long-term) however, we prefer to go long against the 24-26k level. Longer-term accumulators anticipating a Q4 run higher could look to systematically sell end-23 puts at these levels on any dip under 30k."
Implied vol across the curve has been completely crushed since, tracking the plunge in realized vol to new all-time lows as BTC continues its directionless trading around our 30k end-Sep gamma for 2 months now.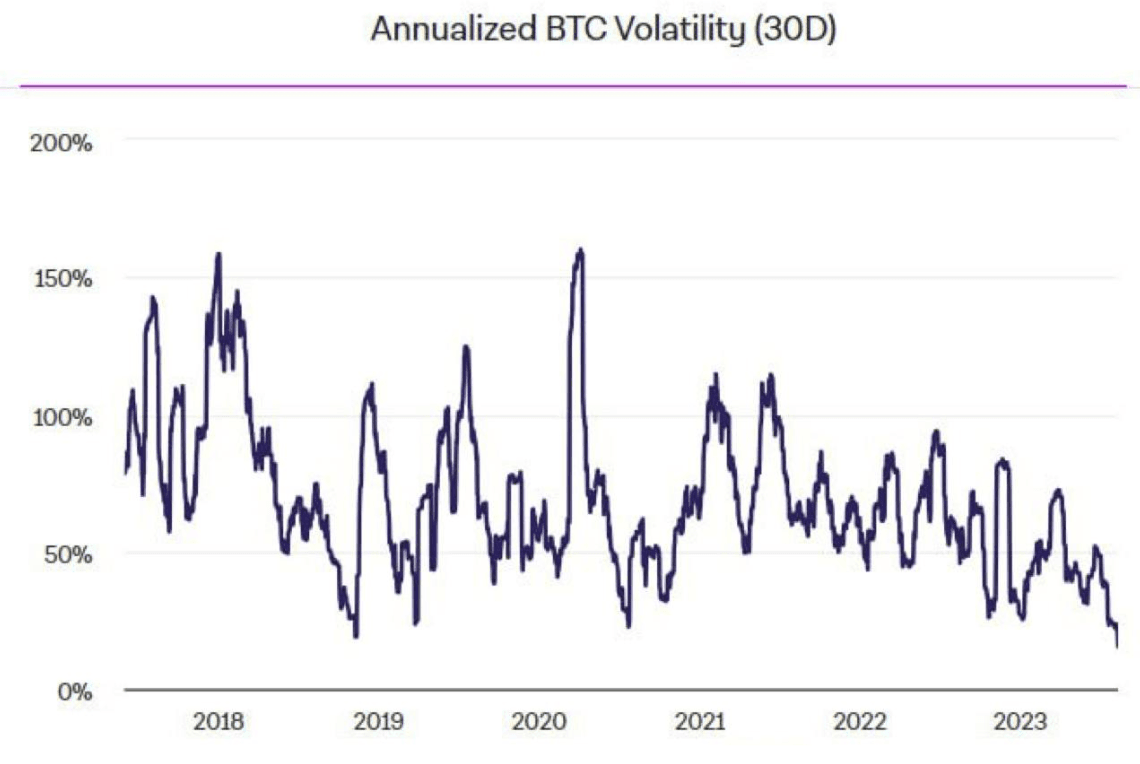 Source: Chart 1
However we still think it is timely to look into structured Accumulator trades, as outlined in our earlier post on 30 July.
The last time trading was this compressed, it was during the crypto winter of 2018 and 2019, and it took a change in the macro environment to revive the market again.
While that game changing shift in the macro environment is not yet in sight, there are a few short term catalysts coming up on the crypto calendar late next month, including Mt Gox, GBTC, a possible SEC verdict on Blackrock/Fidelity's applications, and some potential centralized crypto exchange and stablecoin news.
On the macro front we are tracking some big levels in DXY and USD Yields that if broken, could start a chain reaction across other markets. However, our hopes are not high for a technical resolution without a fundamental catalyst.
The one thing that could drive us to our outlined longer-term levels of 24-26k is the front-end rates curve that we feel is still too dovish in pricing 4-5 cuts for next year (Chart 2). However, this too will take weeks to months to see a resolution. In the meantime, central banks in China and Japan continue to add liquidity, which is bullish for markets.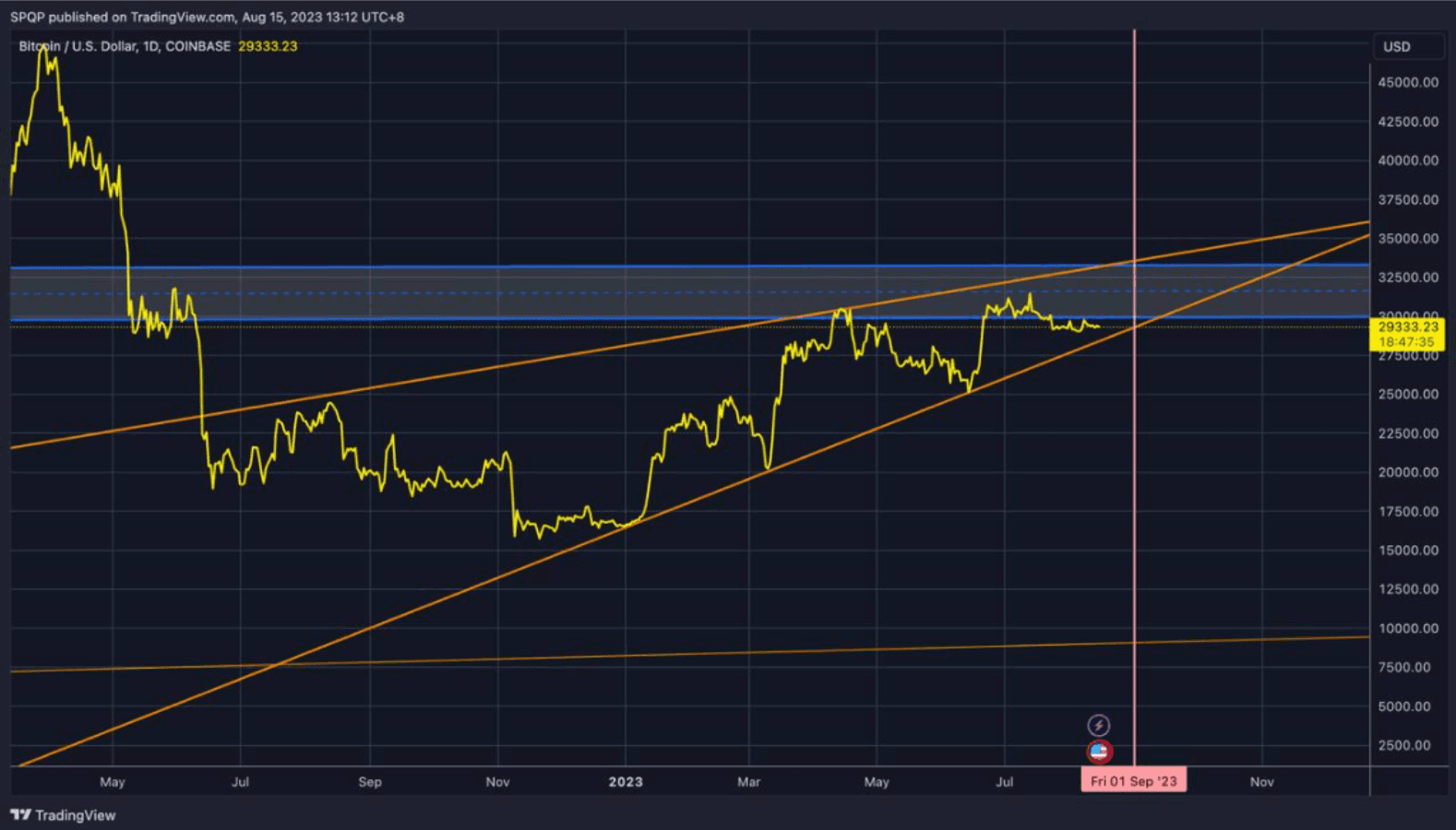 Source: Chart 2
On the charts, the wedge pattern that BTC has been trading in since its 15k lows reaches its first termination point at the start of Sep as well (around 29,300 level - Chart 3).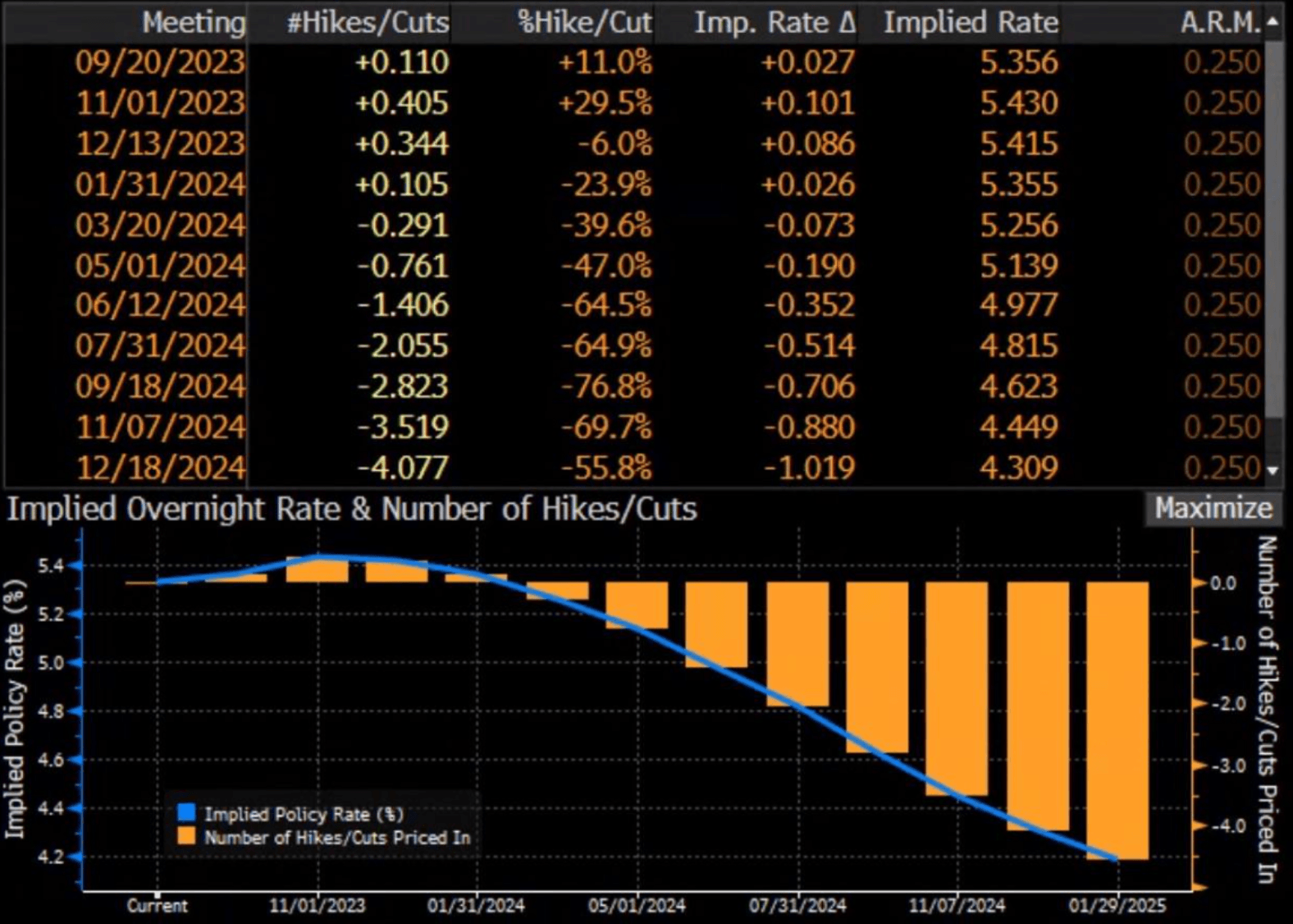 Source: Chart 3
Will there be a sharp rally that takes us to the 34k resistance - like the prior three times which kissed the support trendline this year? We think it could still be another quiet few weeks before we find out. We are on the lookout to buy back our end-Sep short calls and go long end-Dec vol in due time.