BTC and ETH continue their nonchalance to any macro headlines or market moves. Correlations with traditional macro drivers like the USD and equities have declined to almost zero (Chart 1 and 2).
Source: Chart 1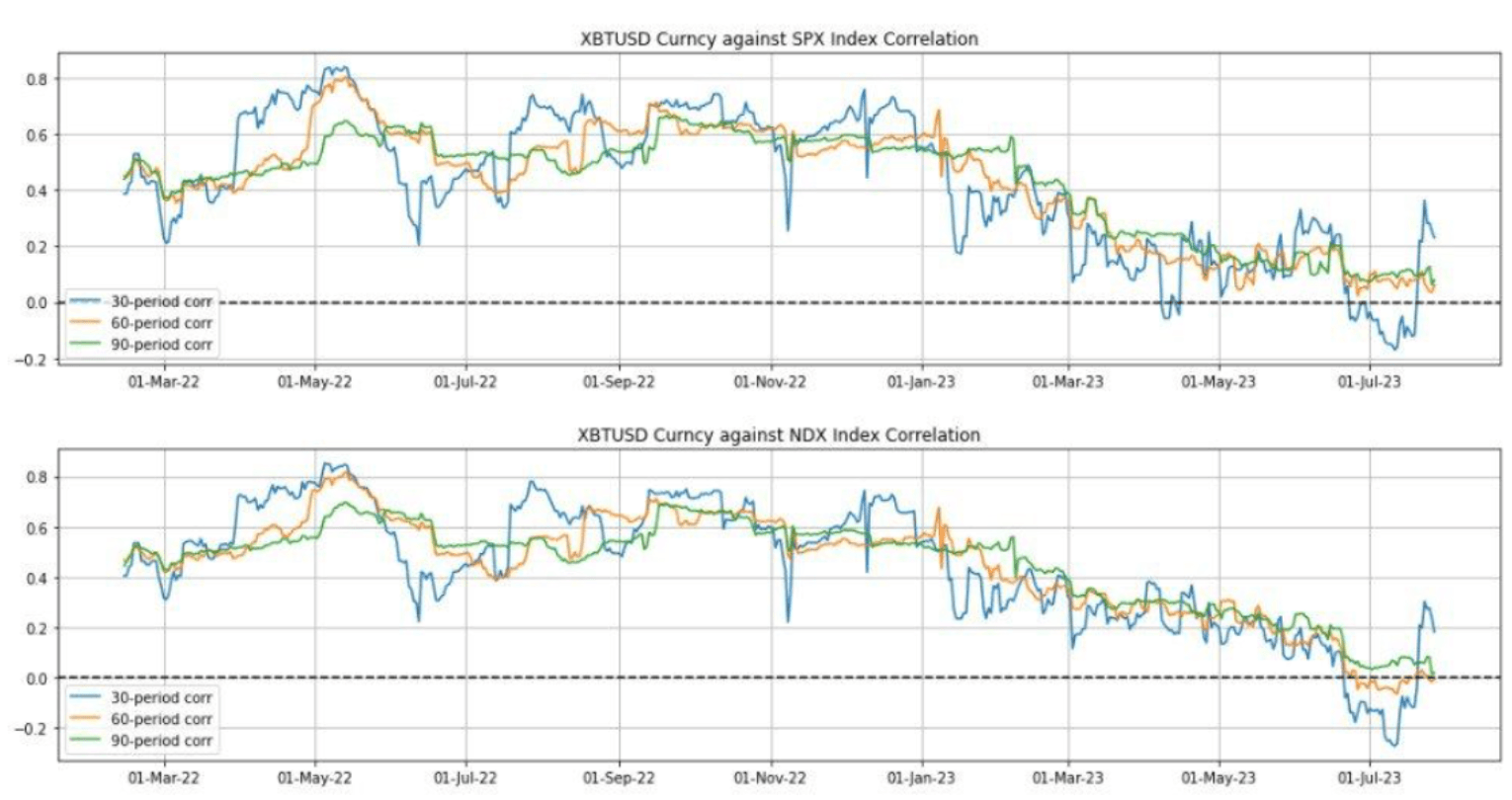 Source: Chart 2
The market has been trading soft and sideways since the surge around the XRP ruling earlier this month. Contraction in the fringe sectors (NFT, DeFi) and consolidation in the industry also continues.
However, the market is expecting a spike in volatility and possibly a large price increase in BTC towards the end of the year and into next year with the Blackrock spot ETF ruling as well as the Bitcoin Halving.
We see this from the very steep vol curve (Jun 2024 vols are almost double Aug 2023 vols with a 24.5 vol spread!) as well as a persistent call skew (BTC calls are almost 3 vols higher than puts).
In spite of this sideways market, a strategy or product class that has performed significantly well has been Accumulators, especially for investors looking to build a long coin into the next bull run.
In a nutshell, the Accumulator is a zero-cost strategy suitable for professional and or accredited investors only (not retail) that allows one to buy BTC or ETH on a weekly basis, at a 10% discount to spot price (at time of trade) as long as spot price trades within a pre-specified range.
If spot price trades outside of the range, >10% above spot price, no purchase is made and the collateral is returned. If spot trades >10% below spot, additional coin is purchased at the 10% discount-to-spot price.
In a medium-term range market with a bullish long-term bias such as this, Accumulators are perfect to systematically buy coin at a discount before the big move without catching bad levels in a gappy intra-day market.
This is a strategy that institutional, accredited and or professional investors use to build coin balance before the big price moves.
A trade put on last month at 26.6k and 1,750 spot ref for example, has allowed the investor to keep buying coin weekly at 24k and 1,570, as long as BTC and ETH trade below 30k and 1920 for the week such as now.
We think the conditions to put on such a trade now are even better than last month – at current spot ref the investor can be delivered coin at ~26.5k and 1680 weekly for up to the next 20 weeks.
And should a large move come before then, it would be possible to restructure the trade once again to capitalize on that.