Mantle Network is live on Mainnet. Currently, Mantle Network has reached 4919 unique addresses that bridged from Ethereum to their network (as of August 8). The total transactions in the network are still relatively low, ranging from 50-200 daily - which is expected considering the network is still in the early stages. The total value bridged (TVL) is at $56M.
With MIP-22's proposal on Mantle's token conversion design, the BIT token will be converted 1:1 to the new MNT token that will be used for gas payments on the Mantle L2 network. The token migration has already happened successfully, with a total of 69m MNT migrated thus far (46% total that is migrated from the pool). It will be interesting to continue monitoring the MNT pool and whether the tokens migrated will increase over time.
General Statistics
Mantle Network Entity Top Token Holdings
The largest token holding is MNT with a balance of 147m MNT (~$82m), followed by BIT, USDC, USDT, ETH, LUSD, PENDLE, UWBTC, and wstETH.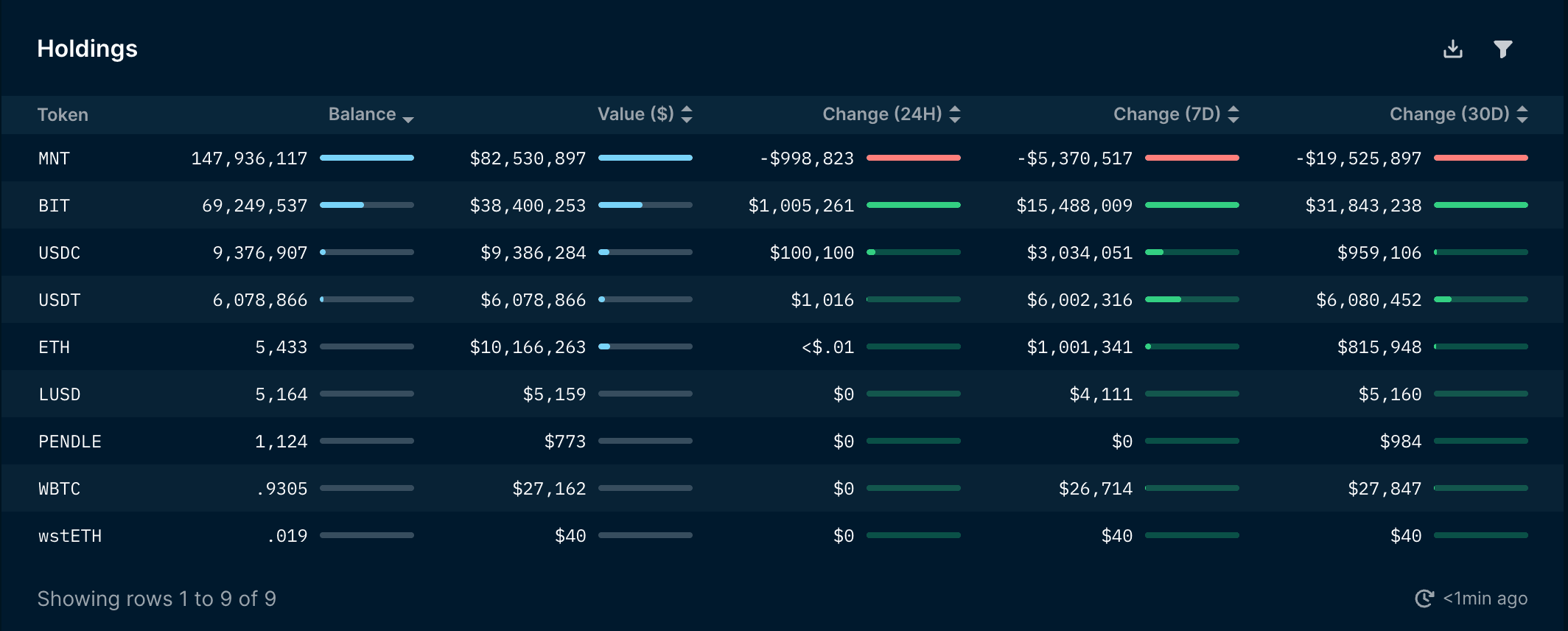 Top Counterparties
BitDAO is the largest counterparty of Mantle Network, followed by Bybit, Jump Capital, Spartan Group, Mirana Ventures, Digits DAO, CoinEX, etc.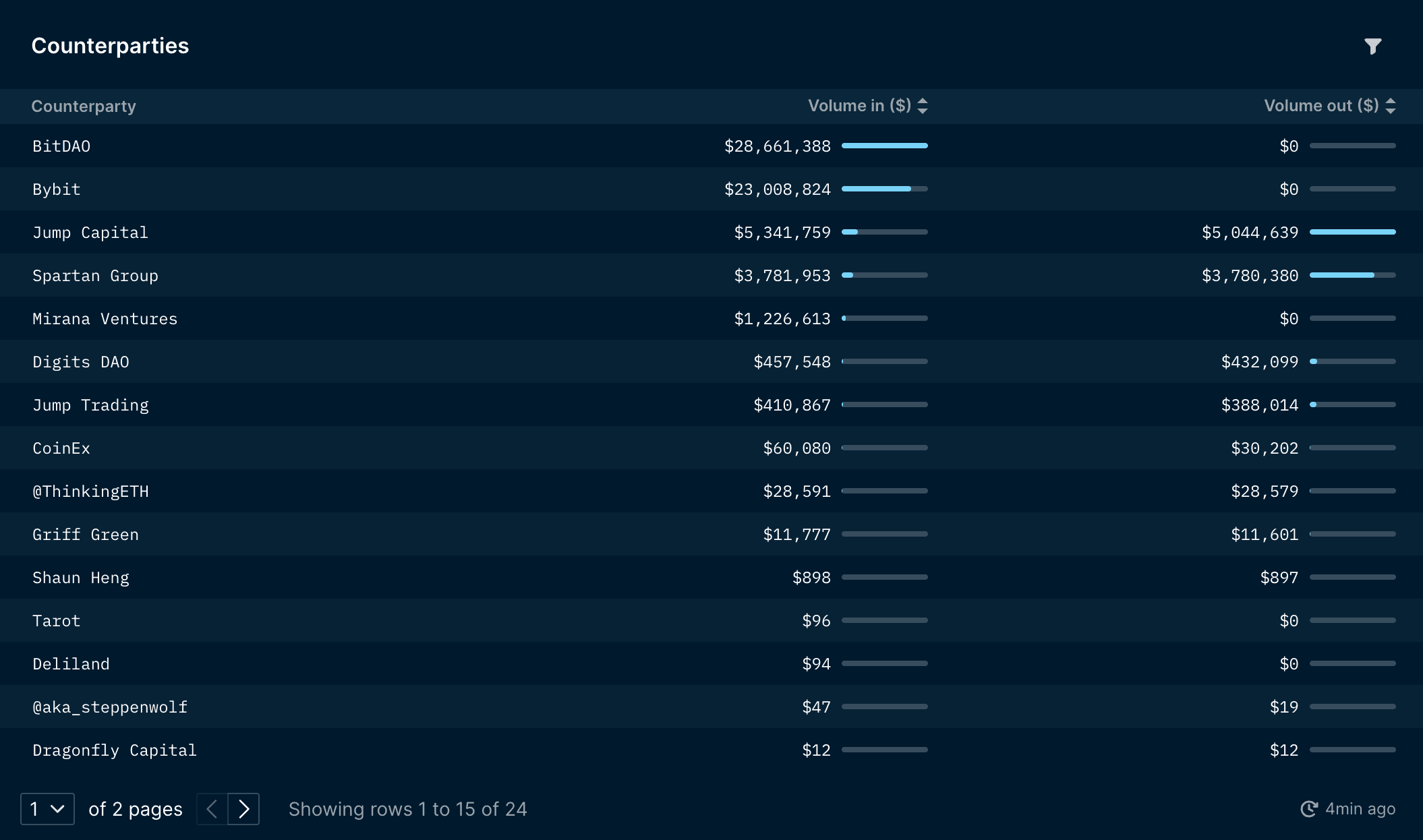 Bridging
The official Mantle Network bridge is live. Users will need to convert some ETH to MNT, as MNT is used as the official token for gas fees on the L2 to initiate transactions.
There are also other cross-chain bridges that now support Mantle Network, namely, LayerZero, Router Protocol, Wormhole, and Entangle.
DEX
Agni Finance

Agni Finance is a high-capital efficiency, AMM-based DEX and launchpad built to support the Mantle Network ecosystem.
Twitter: https://twitter.com/Agnidex

FusionX

FusionX builds the native DeFi ecosystem of Mantle Network which powers its concentrated liquidity AMM which is highly efficient, isolated perpetual Dex and LSD-based products coming up shortly.
FusionX's permission-less nature allows products built on top of our core architecture, such as Automated Liquidity Management, Yield Aggregators, Structured Products and many more.
Twitter: https://twitter.com/fusionx_finance

Galador

Galador is a liquidity infrastructure on Mantle that aims to deliver fast execution and advanced trading. It is built natively on Mantle.

Pulsar Exchange

Pulsar Exchange is a TWAMM protocol on Arbitrum and Mantle Network.
CPAMM-based TWAMM strategy helps institutional traders invest in cryptocurrencies for the long-term.
Twitter: https://twitter.com/PulsarSwap

Ammos Finance

Ammos Finance is a DEX built natively on Mantle Network with optimised liquidity provision, limit orders, managed liquidity provision (MLP) and account abstraction.
Ammos aims to be a marketplace for managed liquidity positions.
Twitter: https://twitter.com/Ammosfinance
Memecoin
Mantle Inu

Mantle Inu is the first memecoin on Mantle Network.
It was also announced that Mantle Inu might potentially be teasing a product launch.
Currently, the token is at $2.2M marketcap.
Twitter: https://twitter.com/MantleInuCoin
Wallet Infrastructure
Lending & Borrowing
Lendle

Sudoku Finance

Sudoku Finance is a native lending and borrowing market on Mantle Network, based on Compound Finance with Sonne finance reward distribution, with a unique bribe-reward tokenomics supporting crust finance ve(3,3) flywheel.
Twitter: https://twitter.com/SudokuFinance
Derivatives
Reax Finance

Reax Finance is a derivatives exchange native to Mantle Network, with the core offering of synthetic assets infrastructure for DeFi.
Reax is live on Mantle Mainnet.
Reax also offers lending services. Currently, the platform has supplied over $190k USDC and borrowed over $53.8k.
Twitter: https://twitter.com/ReaxFinance

Good Entry Labs
Solidly Forks
NFTs
NFTs2Me

NFTs2Me is an NFT toolkit for creators. Users can create, deploy and manage their NFT collections with a special subdomain for free.
NFTs2Me recently deployed on Mantle Network.
Twitter: https://twitter.com/nfts2me
DAOs
XDAO

XDAO is a multichain dApp that allows anyone to create their own DAO without needing to write a line of code.
XDAO supports over 30+ chains, and is now integrating with Mantle Network.
This expansion to Mantle Network will hopefully enable more creation of DAOs in this ecosystem.
Twitter: https://twitter.com/xdaoapp
Others
YFX (Yield Farming Index)

YFX is a decentralized crypto hedge fund that aims to generate high returns on investment by leveraging sophisticated trading strategies and advanced risk management techniques.
YFX just announced their partnership with Bug Finance, in which YFX will receive a veBUG airdrop and become stakeholders of Bug Finance.
YFX's main product will be single-stake vaults of $YFX token that streamline part of the protocol's revenue to stakers.
Twitter: https://twitter.com/YieldfarmingI

Jump DeFi (Launchpad)

Jump DeFi is a NEAR token launchpad that also expanded to Mantle Network. Projects can kickstart their token launch here with the ability to distribute tokens and raise capital directly on this platform.
Twitter: https://twitter.com/JumpDeFi