Executive Summary: Solana, Tailwinds, and Risks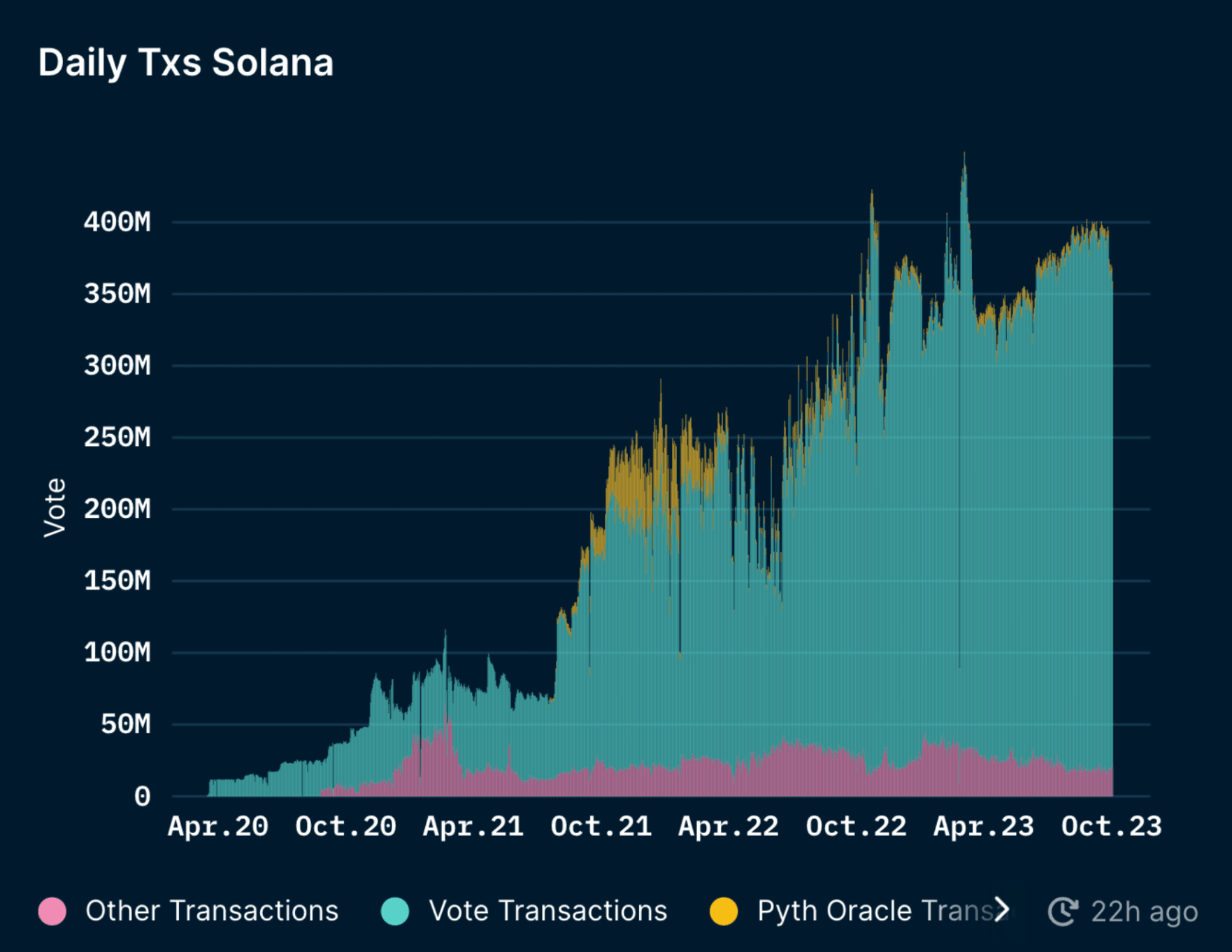 Source: 
Daily transactions on Solana
Tailwinds
More enterprise adoption for Solana Virtual Machine (SVM)
Solana's reputation will continue to strengthen if more institutional players recognize Solana's improving tech stack (TPS on the higher-end of blockchain peers, downtime issues addressed, cost-effective on-chain storage) and decide to openly partner and utilize Solana's chain. A few illustrations of this adoption are: Visa introducing Solana as a settlement layer to boost cross-border USDC payments, and Solana Pay, a new payment system on Shopify (partnership with Mastercard). Solana's key value proposition is its cost-effectiveness and speed vs the rest of the market (Transactions Per Second or TPS ~3,000, 30 times the TPS of Ethereum and L2s).
Solana developers are executing their Firedancer vision. Developers' interest in SVM is increasing.
Firedancer is arguably one of the most exciting upgrades for Solana. It will likely promote significant optimizations to the validator client and should function much more effectively than the current Solana Labs client.
As of now, the crypto narrative is primarily 97% Ethereum Virtual Machine (EVM) and 3% SVM. If the SVM continues to take a cut of EVM's market share, the Firedancer upgrade and improved hardware/bandwidth efficiencies could help expedite the adoption of SVM.
Growth of JitoSOL and other liquid staking tokens
Jito Labs is Solana's latest "success story" in the liquid staking landscape. The growth of JitoSOL, with over 2.4M SOL staked over the course of the year, has been an impressive feat for the Solana ecosystem, benefitting many of the dApps within. Ethereum has over 40% of staked ETH deposited in liquid staking protocols, and in contrast, Solana only has about 3-4% of staked SOL. If Solana's staked SOL manages to grow even a small fraction of their staked SOL in LSDs, this could help promote the total TVL of Solana's ecosystem. Solana's staking yield is currently double the yield of Ethereum, with close historical risk statistics (price drawdowns).
More consumer-facing applications recognizing Solana's edge
Solana has proven to be the most usable chain when it comes to building consumer-facing applications. The blockchain offers a fully-fledged tech stack that is optimized for retail adoption. Solana's cNFTs are suited for large-scale NFT mints that are optimized to offer the lowest possible costs, while the local fee markets aim to eliminate unnecessary congestion in the network, and the high TPS environment offers the speed needed to drive these applications.
Native Token launches for Solana-centric Protocols
The crypto community has often wondered why most Solana DeFi applications have not launched their respective native token. The answer is simple. Protocols would often want to hit a certain threshold in user base and activity before launching tokens. The tokenomic history of DeFi protocols has demonstrated that the native token can often be overinflated and based on pump-and-dump schemes. However, native token issuance for DeFi protocols tends to be a sine-qua-non step in a DeFi protocol lifecycle.
Risks
SOL price dumps to post-FTX levels if Galaxy chooses to liquidate their SOL holdings entirely and in a small time interval
If Galaxy offloads FTX/ Alameda's entire SOL position in a small interval of time, the SOL price may react negatively as it is sold into the open market (also assuming that a % of SOL holdings may be OTC-ed). If SOL's price retraces to post FTX's level, this may cause a panic in the market,
Further network halts taint Solana's reputation
Solana has maintained a 100% uptime year-to-date, which is a very positive record for the network. If the network experiences any network halts in the future, this would negatively impact Solana's reputation and confidence in its recent tech upgrades.
A lack of bridging infrastructure and native assets
Despite the notable developments within the Solana ecosystem studied in this report, there is still a lack of liquidity on-chain, a lack of native asset support, and not enough bridging infrastructure in place. Furthermore, the ecosystem still has to break its track record of bridge "exploits".
For more, check out our deep-dive into Solana: Past, Present, and Future here.