Disclaimer: Nansen has produced the following report as part of its existing contract for services provided to Arbitrum (the "Customer") at the time of publication. While Arbitrum has the right to review and provide feedback to Nansen, Nansen maintains full editorial control over the publication of this report. All views expressed are the independent opinions of Nansen's research analyst(s) who are the author(s) named in this report. This report is intended for informational purposes only and does not serve as investment, financial, professional, or other advice. For more information, please refer to the disclaimer at the end of this report, as well as our Terms of Service.
Overview
Optimistic Rollups
Arbitrum One is an Optimistic Rollup and one of the many scaling solutions for the Ethereum blockchain. Optimistic rollups assume that validators are not malicious and that transactions are posted correctly. To ensure that assertions are valid, however, anyone can challenge the validity of a claim for approximately a week. The dispute is then narrowed down to a single line of instruction and executed on the L1 chain to verify correctness. The fraudulent node would have its stake slashed, with its portion going to the winner of the challenge. The process of presenting evidence of an incorrect state transition is called fraud proofs. This is the basis of how an Optimistic rollup like Arbitrum One works, reducing the workload on the main L1 chain, as not all the transactions need to be re-executed and incentivizing nodes to be well-behaved.
Check out Nansen's previous report on Arbitrum and other scaling solutions for Ethereum here.
Additionally, the Arbitrum team started an Explain It Like I'm 5 (ELI5) Initiative, which aims to break down complex jargon into bite-sized infographics. The goal of this initiative is to help users better grasp some of these technical concepts as well as onboard new users to Arbitrum.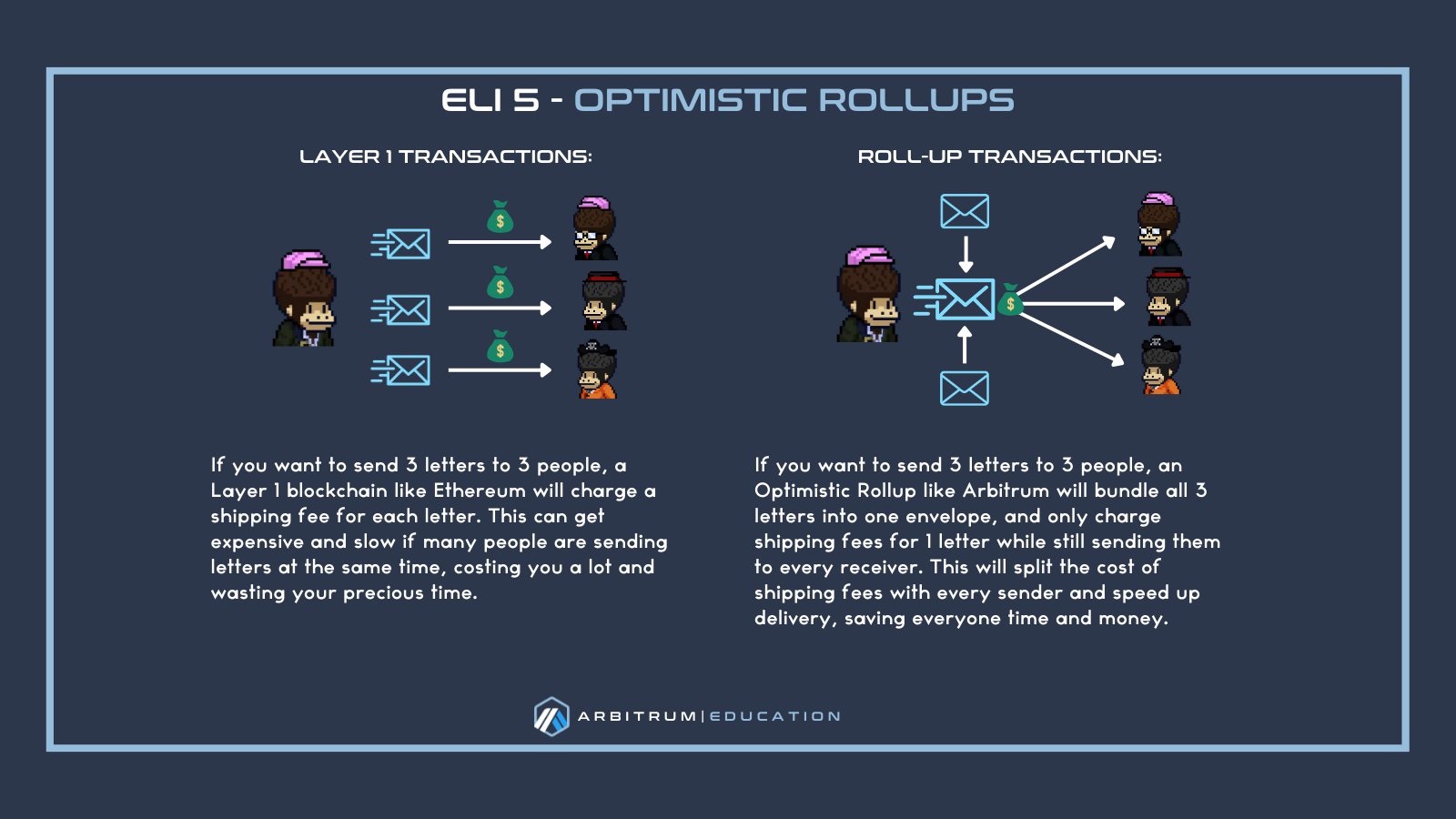 Source: 
Twitter
Key Developments: Q4 2022
Acquisition of Prysmatic Labs
Right after The Merge, Offchain Labs announced the acquisition of Prysmatic Labs, one of the core development teams that built the leading Ethereum proof-of-stake client, Prysm.
Despite the acquisition, Prysmatic Labs would continue furthering its development initiatives in the coming year. An example would be EIP-4844 proto-dank sharding, which would allow more data to be posted on Ethereum and result in lower transaction fees.
With the combined experience in Go development and a common drive towards improving Ethereum, this partnership would lead to faster multichain development and further cement Arbitrum as a scaling solution that leverages Ethereum's data availability and consensus capabilities.
MAGIC Listing
On Dec 12, Binance announced the listing of MAGIC, the native token of the Trove marketplace, causing the token price to rise almost 2x, to a high of ~$0.93.

Before the announcement, some users might have noticed the MAGIC-ETH Liquidity Pool rising in ranks on Nansen's very own Defi Paradise Multichain dashboard.

Besides the pools involving ETH and stablecoins, another pool that has gained substantial traction during the time period was the DPX-WETH pool.

Source: 
DeFi Paradise Multichain
Ecosystem
Arbitrum One hosts a dynamic ecosystem of dApps, which can be viewed on the Arbitrum One Portal directory. Some of the recent additions are highlighted below.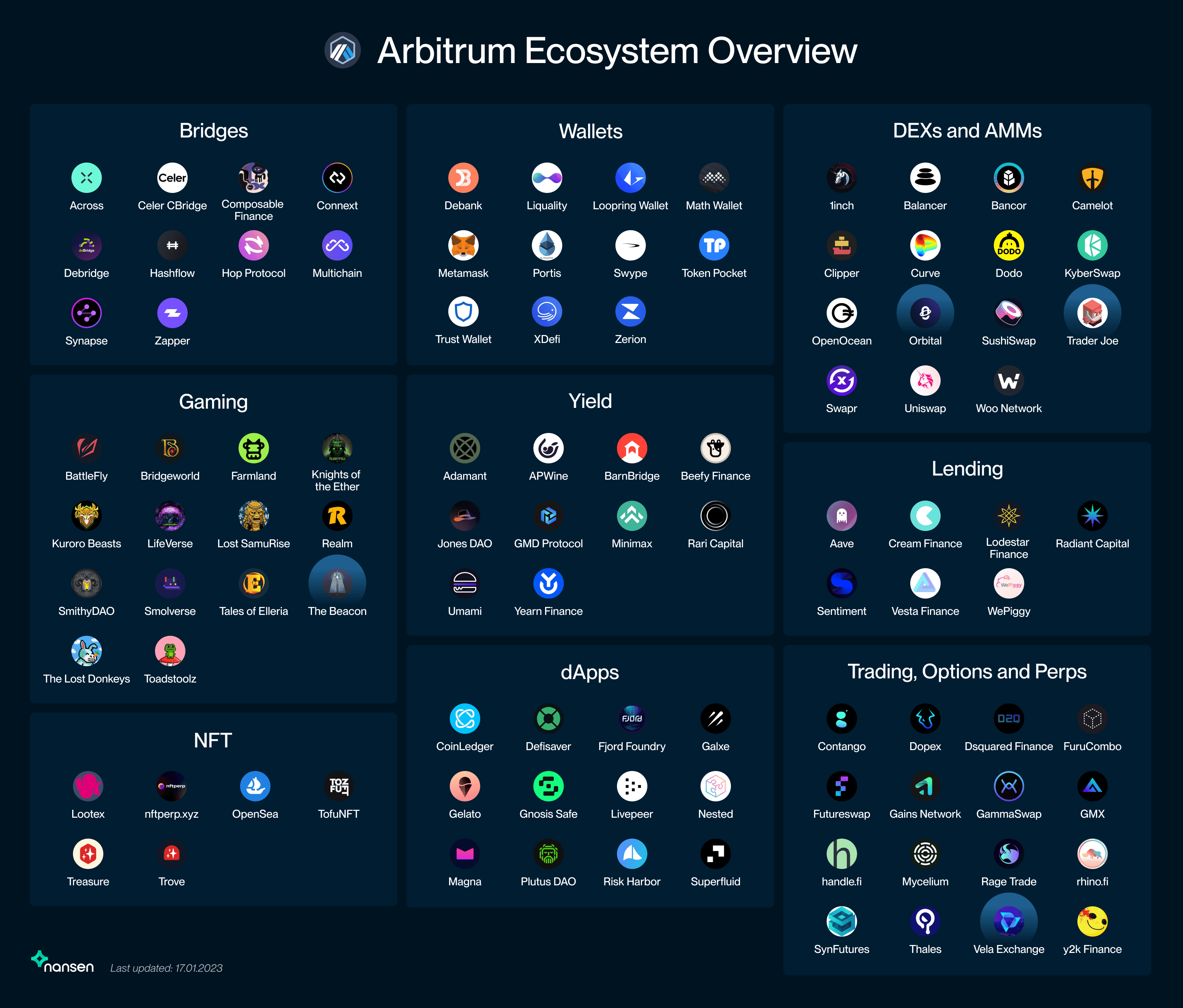 Source: List of Notable Applications on Arbitrum, Nansen Query
Trader Joe
Trader Joe, a decentralized trading platform on the Avalanche chain, announced their expansion into Arbitrum with its newly launched Liquidity Book AMM.
Making use of discrete liquidity bins, Trader Joe empowers users to determine the price of liquidity provision, thereby minimizing slippage.
Another feature that Liquidity Book offers is the Volatility Accumulator, which measures market volatility via price changes over liquidity bins. Variable fees would in turn be priced more accurately, generating more fees to compensate liquidity providers during times of volatility.
The Beacon
The Beacon is a fantasy action role-playing game (RPG) where players engage in solo or cooperative dungeon quests to earn loot and experience.
This game is based on both a free-to-play (F2P) and paid model. This reduces the barrier to entry for explorative users and allows everyone to experience the game in its rawest form.
In contrast, supporters would be able to purchase their character, unlocking several in-game quality-of-life benefits and the chance to earn in-game cosmetics as NFTs.
The Settlement Launch was a playable prototype of the Beacon that was open to the public from Nov 25, 2022 to Dec 14, 2022, where players could mint a "Founding Character" NFT and participate in the daily Dungeon Expedition and Tavern Quiz to earn rewards. The Settlement Launch culminated with the Gen-0 Egg mint, which will hatch next year to reveal Gen-0 pets, giving users access to several in-game perks.
Celebrating the Settlement Launch, several games on Treasure, such as Smolverse and Tales of Elleria, rallied together to give away Treasure Starter Packs to the community and kickstart their gaming journey on the Treasure ecosystem.
Nansen On-chain Data
Daily Transactions

Source: 
Daily Transactions on Arbitrum
Transactions on Arbitrum rose from 200k to a high of 576k during Q4 2022, with a similar trend shown on Arbitrum gas. There was a spike on Nov 8 coupled with insolvency fears of FTX as affected users were trying to bridge out their funds from the exchange while it was still possible.
Source: Daily Transactions on Arbitrum for 2022, Nansen Query
Zooming out to 2022, Arbitrum experienced tremendous growth, quadrupling the transaction volume with important collaborations like Opensea and infrastructure improvements including the Nitro Upgrade.
Daily Transactions (vs Ethereum)
Comparing the transaction volume of Ethereum and Arbitrum, both chains trend sideways with a notable spike of transactions on Ethereum on Dec 9, 2022, possibly due to fear and concerns over Binance's liquidity position. In the following days, there were also several large withdrawals by entities like Jump Trading.
Smart Money Segments on Arbitrum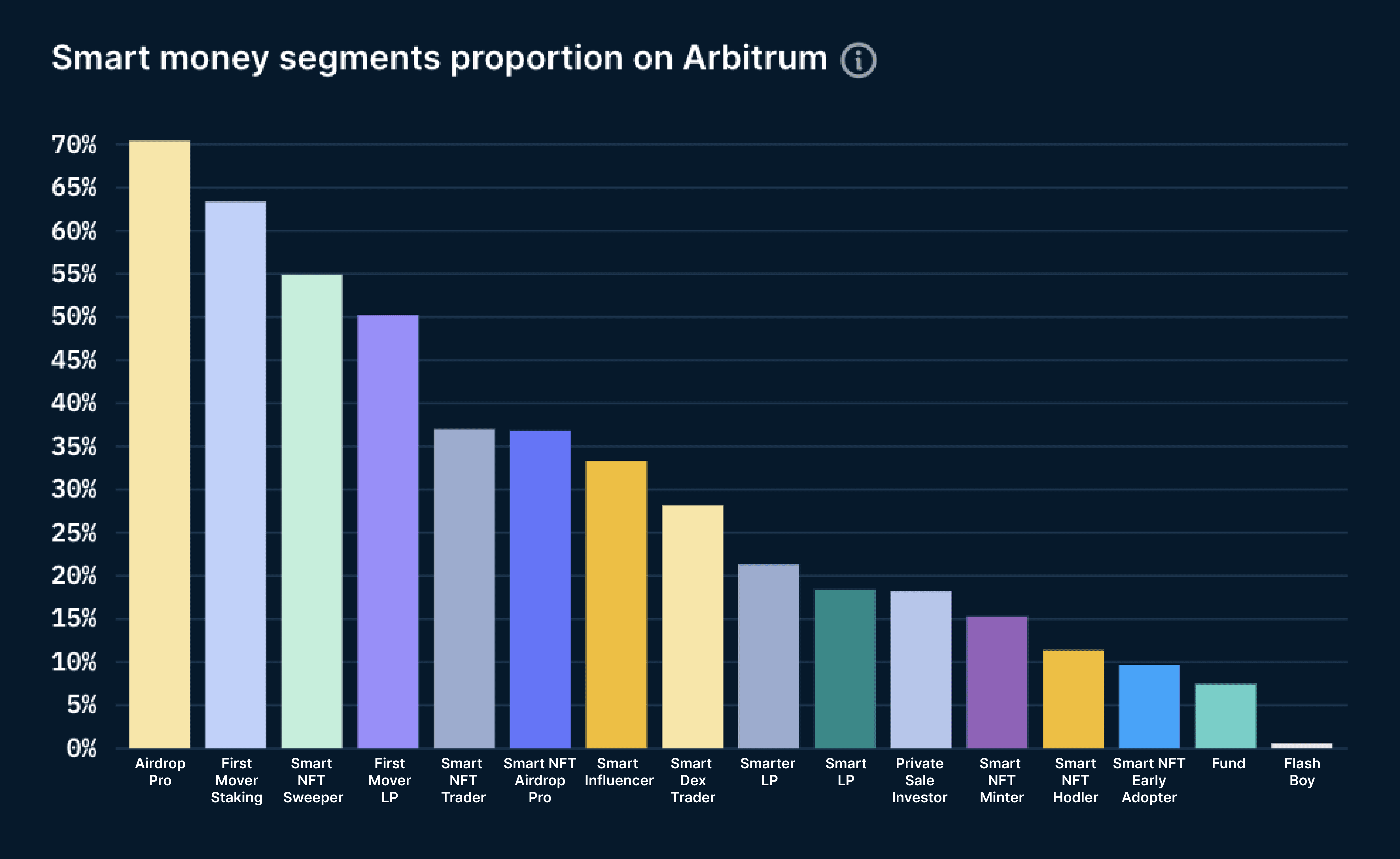 Source: 
Smart Money Segments on Arbitrum
Despite speculation over an Arbitrum token dwindling, the "Airdrop Pro" segment remains the largest overlap of Smart Money on Ethereum and Arbitrum One. The "First Mover LP" segment is also close behind, which comes as no surprise given the recent traction from the MAGIC-ETH Liquidity Pool clocking in considerable transaction volume over a short period.
Check out this page for how these categories are defined and how you can use these labels on Nansen!
Top Entities by Users and Transactions
With the help of Nansen labels, the top entities by transactions and users are Stablecoins and DEXs (Uniswap, Sushiswap). While this could be partially attributed to the recent interest in the MAGIC token, the FTX fallout did see users moving towards a more risk-off environment and a flight to stables. Coming in below the DEX transaction activity is GMX, which had a tremendous increase in users compared to Q3 and remains one of the most popular dApps on the Arbitrum chain.
Notable Projects
Vela Exchange
Vela Exchange, formerly known as Dexpools, is a spot and perpetual exchange.
Vela aims to unify the functionalities of a traditional CEX, such as managing position sizing at a more granular level, together with the benefits of a DEX, taking charge of funds by holding assets completely on-chain.
The native token of the ecosystem, VELA would grant discounted trading fees and a share in the fees generated from the protocol when staked.
Celebrating their first Twitter AMA with Arbitrum, the Vela team released a time-limited NFT that was claimable for one week.
Vela also concluded its closed alpha on Nov 17, 2022 and would kickstart their public beta on Jan 18, 2023, tweeting that participants could potentially qualify for an airdrop.
Closing Thoughts
Despite the FTX debacle, the user activity on Arbitrum had remained steadfast, matched with a similar interest in developers to continue building and pushing out new dApps. The synergy between the various communities on Arbitrum also helped to bring together different audiences and enrich Arbitrum's vibrant ecosystem. With its strong growth throughout the year and the strategic acquisition of Prysmatic Labs, Arbitrum is set for exciting milestones ahead.