The Curve Wars started a liquidity game, where the protocols and entities with the largest war chest of CRV tokens can use their voting power to direct emissions to their liquidity pools. Unichad is a protocol that primarily accumulates Unibot tokens and distributes revenue share to token holders. The goal is to accumulate a large war chest of Unibot tokens and ride on the success of Unibot. If Unibot continues to outperform the markets, Unichad could be a strong beta play.
PSA: It is worth noting that the Unichad team is planning to airdrop 25% of the remaining supply to Unibot wallets. The airdrop is expected to happen this week. Airdrop eligibility was designed for early buyers of UNIBOT who held on to the local ATH on July 27. There may or may not be sell pressure from airdropping 25% of the remaining supply.
Taxes and Revenue Share
Unichad has a 5% buy and sell tax of which 2% will be directed to the UNICHAD/ WETH LP and 3% to auto-buy UNIBOT. In just 4 days post-launch, Unichad has already purchased a net value of 381.37 UNIBOT (~$73.2k).

Source: Nansen Pro
Currently, Unichad.eth is positioned 426th in terms of UNIBOT token holder rank, and has already climbed up 91 ranks in the last 24 hours. The goal is to amass as much UNIBOT as possible and redirect revenue-sharing from UNIBOT to Unichad holders.
Assuming the rates of about 50 UNIBOT accumulated per day, 350 UNIBOT per week, this would quickly place them in Top 200 in a week. As more users purchase UNICHAD, and the tax fees are used to auto-buy UNIBOT and add to the UNICHAD/ /WETH LP, this would enable a flywheel effect benefitting UNICHAD holders with a larger revenue share.
Top-Holder Analysis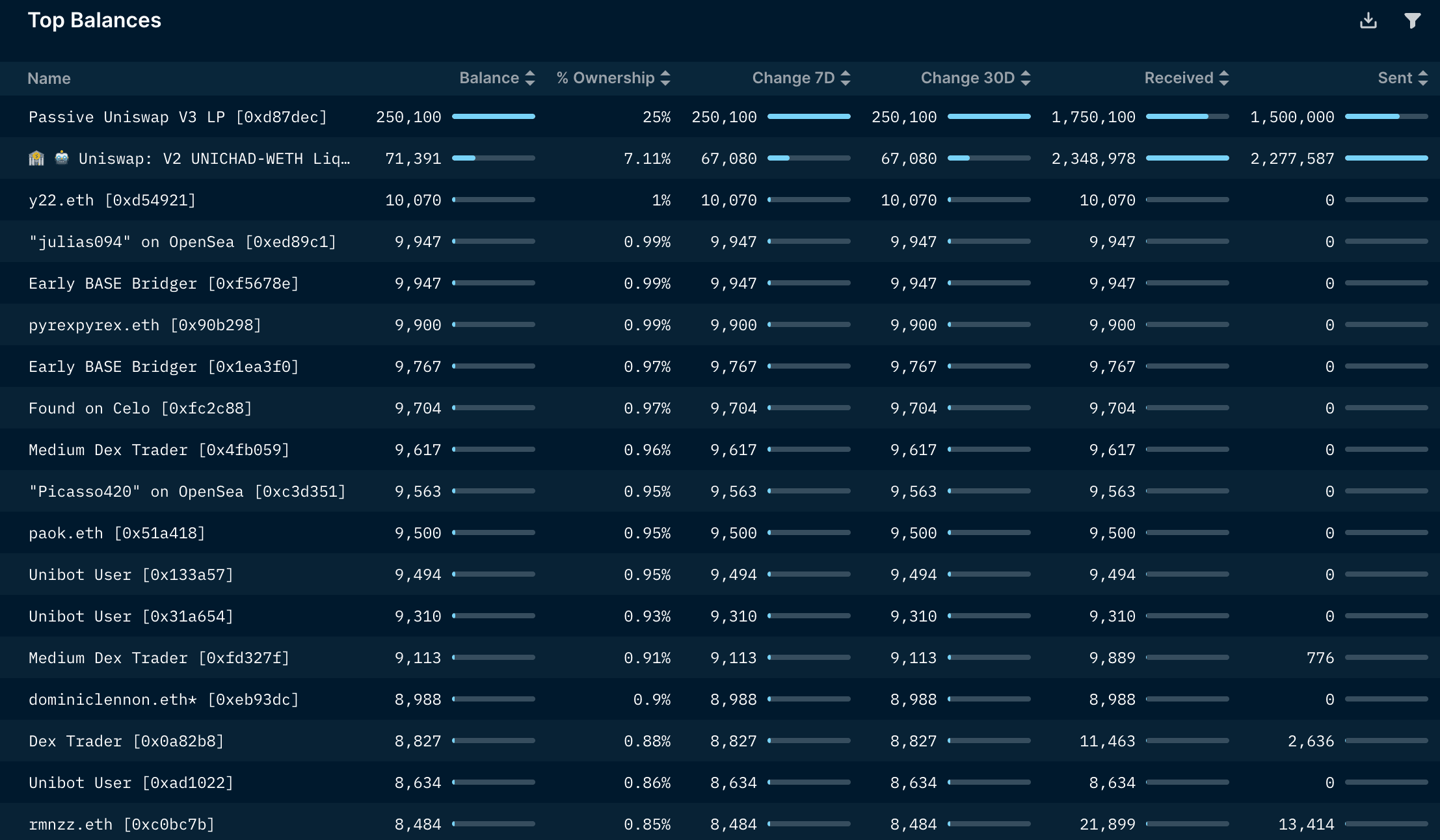 Source: Nansen Pro
Bull Case
Unibot continues to outperform relative to its competitors and Unichad continues to ride on their success

Unichad's entire business model is highly reliant on Unibot's dominance. So far, Unibot is taking about 60-80% of the Telegram/ Discord bot's market share, which is a bullish sign for Unichad. If Unibot continues to perform accordingly and ensure a "winner takes it all" product.
Bear Case
Other Telegram/ discord bots overtake Unibot's success

Since Unichad's model is highly dependent on the continuous success of Unibot, more specifically that its revenue share relies on Unibot's buy and sell volume. If Unibot's volumes fall off a cliff, this would have a looming effect on Unichad.

Early holders start to sell off their share of the tokens

In terms of token distribution, there are a few addresses that are each holding 1% of the circulating tokens. This could create a massive sell-pressure if the top holders choose to unload.

If Unichad does not manage to amass a significant portion of Unibot, users might choose to hold Unibot instead of Unichad

Since Unichad's business model is not proven just yet, and there hasn't been a historical track record of performance, there is no strong evidence that it is more cost-effective to hold Unichad instead of directly holding Unibot.